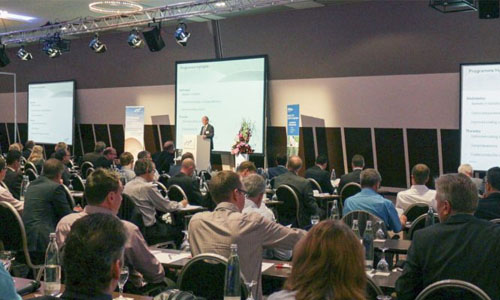 "upgraded – smart – bio" is the motto for the 29th PTS Coating Symposium from 03.09. to 04.09.2019 in Munich. This year's programme offers a great deal of potential for knowledge and innovation, with experts and speakers from industry and science reporting on trends and developments in the changing industry.
The PTS Coating Symposium 2019 of the Paper Technology Foundation (PTS) will take place for the 29th time this year. As one of the largest international events of its kind, this year's symposium will deal with biobased, sustainable and functional coatings in the packaging sector, true to the motto "upgraded – smart – organic".
This year's keynote speeches by Eveline Lemke (Thinking Circular), Arne Kant (Pöyry Management Consulting GmbH) and Dr. Andreas Schütte (Fachagentur Nachwachsende Rohstoffe e.V.) will look at the changing industry from an economic, ecological, social and political point of view and will take up the motto of the event in an excellent way.
The symposium participants will have a comprehensive overview, but also a profound insight into the latest findings from research and industrial practice. Renowned experts from industry and science are looking forward to presenting the latest innovations from their field and discussing them with the participants.
Lectures are awaiting you from, among others:
"The way to sustainable packaging" – Peter Désilets, Pacoon
"Application of natural substances in barrier screeds for packaging papers" – Samir Kopacic, TU Graz
"Progress in applications of printed electronics on paper substrates" – Prof. Dr. Rodrigo Martins, University of Lisbon
– "New barriers for flexible packaging" – Laura Crowther-Alwyn, CTP Centre Technique du papier
The accompanying trade exhibition with leading suppliers from the chemical and machine sectors offers a good opportunity to find out about innovations and solutions.
The previous Europe-wide participant registrations show a good mix of different branches of industry, with paper and board manufacturers in particular being strongly represented. This provides an ideal basis for expanding the network and allows valuable contacts to be made with industry experts in a communicative atmosphere.
In addition, this issue of the event features a special U35 ticket offer designed to provide young professionals, as well as cross- and newcomers under 35, with lucrative access to the event with all its advantages.
At the end of the first symposium day the mad master program forms, with Gala Dinner and musical highlight by singing Newcomer Amy Warning an entertaining conclusion.