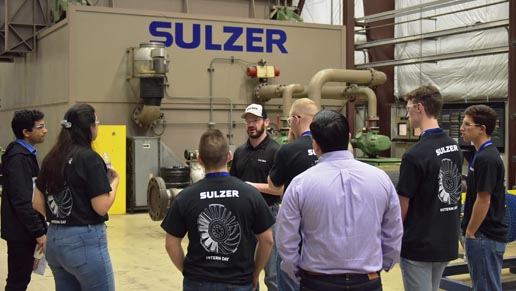 College students will receive hands-on experience in turbomachinery repair
Sulzer will once again run its summer intern program for young engineers in education. The internship, taking place in Houston, TX, U.S., is designed to provide first-hand job experience on how to repair and service rotating equipment. In this way, students can develop their professional skills, which will be extremely valuable in their future careers.
Sulzer, the world's leading provider of maintenance and repair solutions, places great emphasis on investments in young engineers and new staff. Training and development activities play a key role, as they help the company to maintain its advanced knowledge base whilst supporting talented engineering students to grow as competent professionals and jumpstart their careers.
The 12-week internship will run from May to August and will allow the selected students to learn and gather hands-on experience with rotating equipment such as turbines, compressors, motors, generators and pumps, as well as work hand-in-hand with skilled shop mechanics, machinists and technicians. In addition, the interns will be assigned one or multiple engineering projects based on the skills acquired in the shop, such as designing new inspection equipment or techniques that improve process flow.
Jennifer Gaines, Mechanical Design Engineer at Sulzer, and responsible for running the internship program, commented: "The work carried out by summer interns has an extremely positive impact on the activities performed in our shop, as the internship projects increase time- and cost-efficiency of inspections, planning, repair and maintenance activities."
The summer intern program helps Sulzer to discover promising young engineers, thus the initiative will also give a chance to prospective applicants to become full-time employees at Sulzer upon completion of the internship program. "Sulzer offers a unique platform, where students can learn how the engineering industry works and show their talents and skills to a leading business, like Sulzer," explained Jennifer.
The intern program runs on a regular basis, offering students the chance to develop commercial experience within an engineering environment. Anyone interested in learning more about this opportunity, is invited to get in touch with Sulzer at RES_AME_Marketing@Sulzer.com