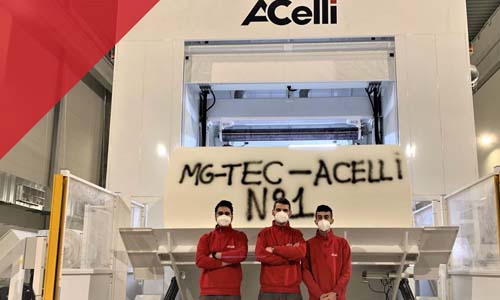 The A.Celli team, with the precious collaboration of the home team, started up the new Tissue rewinder located in the Dej plant in Romania.
It is with pride that we announce that the new E-WIND® T100 Tissue rewinder supplied to the prestigious Romanian company MG TEC Industry S.r.l was successfully started up at the end of April in full compliance with the project objectives in terms of timing and product quality agreed with the customer.
MG TEC Industry is a new Romanian company founded in 2018 in the Transylvanian town of Dej. The main objective of their project is the construction of a greenfield plant focused on the development of a production line for tissue paper, absorbent products and hygienic products.
The A.Celli E-WIND T100® solution supplied will be a part of the Tissue line dedicated to the production of paper with a width of 2850 mm and a basis weight ranging from 13 to 45 gsm.
Thanks to the line's operating speed of 1600 m/min, it will be possible to produce up to 100 tons per day of the highest quality tissue paper.
Another success that, combined with the satisfaction of MG TEC Industry S.r.l., makes us more and more proud of our technology dedicated to the slitting and winding/rewinding of any type of paper on the market.
Mr. Hasmasan Vasile, MG TEC Industry Plant Administrator, says: "Special thanks go to our operators who have successfully managed all the start-up steps despite the circumstances caused by the pandemic. The assistance of the A.Celli team was fundamental: we were able to count on excellent support both on the field and remotely, directly from Italy. "
This is also a perfect demonstration that no matter the obstacles due to the global pandemic, A.Celli will always be by your side