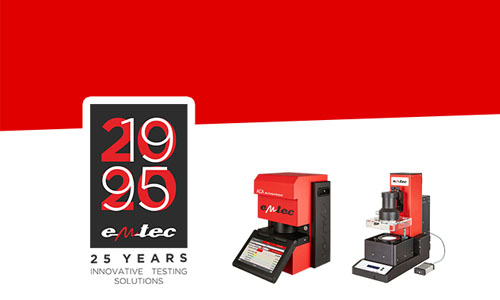 At the Paperex India convention at the Indian Expo Center in Greater Nolda, Delhi-NCR from January 9-12,2022, emtec Electronic will present specific testing and measuring devices that help manufacturers avoid common issues in paper manufacturing and converting.
 Thousands of exhibitors and visitors will once again be able to gather for one of the largest paper industry trade fairs in the world, this time operating under stricter hygiene regulations due to the Covid-19 pandemic. Now in its 15th edition, the Paperex convention offers a series of exhibitions and conferences focusing on the paper, pulp and related industries. The international event typically attracts visitors and exhibitors from around the globe, boasting for example more than 600 exhibitors from 28 countries and nearly 30,000 visitors at the 2019 convention. This year, the program highlights include new segments such as printing, packaging, and publishing.
Leipzig-based device manufacturer emtec Electronic GmbH will also be represented at the convention this year to present their complete product range, with particular focus on those products that help paper professionals optimize their production processes, for example by determining the correct amount of additives on the wet end, predicting gluing and coating ability of paper, and determining the amounts of fines and fillers.
"Paper manufacturers are often on the lookout for new technology and methods to make the manufacturing process more efficient and sustainable without experiencing quality losses," says Alexander Gruener, Global Marketing and Business Development Manager at emtec. "Our equipment helps with this by quickly and reliably providing measurement data that leads to more efficient use of resources, less waste and greater control throughout the manufacturing process."
The 25-year-old company specializes in the manufacture of measuring and testing equipment for pulp, paper, board, and textiles and serves customers in more than 80 countries around the world. An emtec representative will be available during the convention at the Indian Expo Center to answer questions, provide demonstrations, and explain the measuring principles behind the emtec devices.