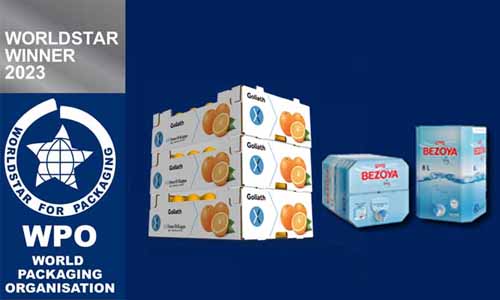 Smurfit Kappa has continued to demonstrate its leadership in innovative and sustainable packaging solutions by winning eight WorldStar 2023 Awards.
The stand-out solutions that received top honours this year include a groundbreaking beverage packaging solution for the transportation of water, a paper-based fruit punnet with a useful handle for carrying and an innovative space-saving tube for heating units.
Building on the success of the 2022 awards, the beverage category was again one of the areas where Smurfit Kappa shone this year. The octagonal Bag-in-Box solution for water, which seamlessly fuses supply chain optimisation and palletisation, was a worthy winner in this category.
Smurfit Kappa's sustainability credentials were in evidence throughout all the winning entries. The 'All-in-Fix' universal eCommerce packaging eliminated 88% of plastic from the original packaging solution and reduced CO2 emissions by an impressive 21%.
Another eCommerce category winner was the sustainable E-Hug single material stabiliser, which facilitates the safe shipment of different sized bottles.
A striking winner in the Food category was the 'Goliath Box' which features angled walls to absorb the internal force exerted by the fruit. This in turns allows for perfect stacking and improved load ventilation.
Commenting on Smurfit Kappa's success, Saverio Mayer, CEO of Smurfit Kappa Europe, said: "We are delighted and honoured to have received eight awards for our innovative and sustainable packaging solutions at this prestigious event for our industry.

"At Smurfit Kappa, we have a relentless commitment to making our customers' packaging better all the time – better in terms of its environmental footprint, better in terms of design and better when it comes to protecting the contents even in the most complex supply chains."
The eight Smurfit Kappa winning products originate from the Czech Republic, Poland and Spain. The WorldStar Global Packaging Awards ceremony will take place in Düsseldorf in May.
Smurfit Kappa's winning products in WorldStar 2023
Czech Republic
'All-in-Fix' universal eCommerce pack
'I like to move it' pack for water heaters
Transformer pack for heating units
Poland
Handypak SofruPak paper-based punnet
Spain
Octagonal Bag-in-box for water
'Rejilla Monopieza' one piece partition
E-Hug single material internal stabiliser
Goliath Box for fruit