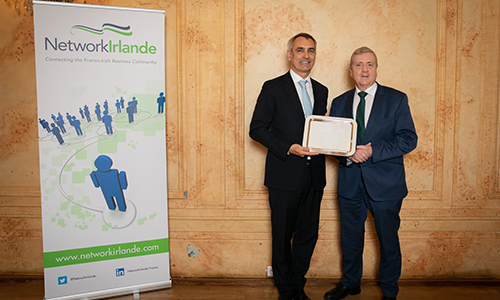 The NetworkIrlande business network and the French-Irish Chamber of Commerce have recognised the Smurfit Kappa group's commitment in France, naming it "Best Irish company in France in 2019". The award, presented at a gala dinner on 28 November at the Cercle National des Armées in Paris, in the presence of Tony Smurfit and Jean-Christophe Bugeon, honours the Irish company's ongoing investment in France.
While French industry is regularly singled out for its lack of dynamism and attractiveness, Irish group Smurfit Kappa has set itself apart for several decades by investing regularly and massively in France. The group is the European leader in paper and cardboard packaging and has expanded in France through acquisitions and the creation of new sites, protecting local jobs and creating new ones.
The latest examples are the takeover in 2018 of the Cartonnerie de Caradec and its two production units in Brittany (200 jobs) and the acquisition of Papcart, a historic French cardboard factory. In parallel, the group is investing in its factories, such as the modernisation of the Smurfit Kappa Cellulose du Pin paper mill in Facture near Arcachon.
To reward this commitment, the French-Irish Chamber of Commerce and the NetworkIreland business network awarded the Smurfit Kappa group the prize for "Best Irish Company in France". The award was created in 2012, and recognizes French and Irish companies that contribute to the vitality of trade between the two countries.
Smurfit Kappa employs more than 46,000 people at 350 production sites in 35 countries. In France, the group already employs more than 5,400 people at 57 sites and supports companies of all sizes on a daily basis in their economic, logistical and environmental challenges. With a strong commitment to environmental protection, Smurfit Kappa launched the Better Planet Packaging initiative in 2018, which aims to reduce packaging waste and address the challenges associated with litter in our oceans and landfills.
"France is a key market for the Smurfit Kappa group. The French industry has undeniable assets and we are proud that our commitment is recognized and rewarded," says Tony Smurfit, CEO of the Smurfit Kappa Group.