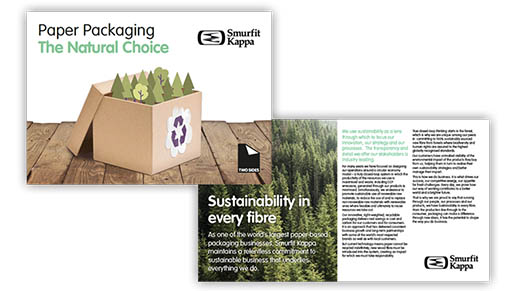 With unprecedented consumer, business and political interest in the packaging debate, now is the time to ensure that the fundamental sustainable attributes of paper packaging are actively communicated to all those for whom paper touches their lives every day.
This is where Two Sides' latest publication comes in : Paper Packaging – The Natural Choice. The booklet features 7 compelling reasons why paper packaging is the natural choice for brands, retailers and consumers.
Two Sides member, Smurfit Kappa, has been the first company to personalise the publication. By adding its organisation's text and imagery to the booklet, Smurfit Kappa has created a powerful tool which can be used to raise awareness of paper packaging's sustainability to customers and wider stakeholders.
"Paper packaging provides many benefits, from protecting products and preventing waste, to optimising logistics in the supply chain. Most importantly, it's 100% renewable, produced sustainably and improves the environmental footprint of our customers. Paper Packaging – The Natural Choice helps us communicate these messages to consumers and brands in a simple and effective manner." says Steven Stoffer, Group Vice President Development, Smurfit Kappa.
"We are delighted Smurfit Kappa recognises and values the information Two Sides has created. Together, we can inform consumers and businesses of the great sustainable attributes of paper and cardboard, the natural and renewable choice for packaging." says Jonathan Tame, Managing Director, Two Sides.