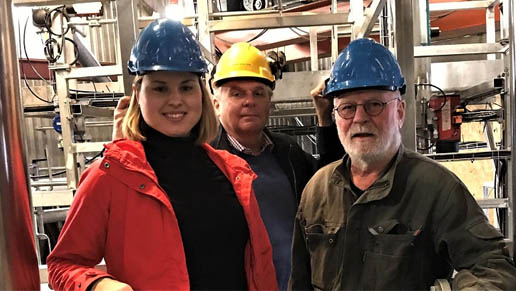 A giant system for filtering green liquor on export? No problems for small swedish company CleanFlow. This week, the filtering system will be loaded onto trucks to be transported to the Pulp Mill Ence in Spanish Pontevedra.
Ence Energy and Cellulose is the largest private forest manager in Spain. The Biofábrica de Ence mill is located in northwestern Spain and produces energy mainly from eucalyptus.
– They need to improve the purification and increase their production. Our facility gives them the opportunity to drive with a higher capacity, says Lennart Källén and continues:
– A Pulp Mills tight sector is often the capacity and when the filtersystem is poor we build a module solution. An ordinary filter system can be 12 meters high, our microfilter is much smaller and more efficient.
Ence is the first producer of renewable energy from the forest in Spain. According to the company itself, renewable energy from biomass has a great development potential in Spain.
Causes clogging
The green liquor filter can be described as the kidney of a Pulp or Paper Mill. CleanFlow builds microfilter in the form of long ceramic rods, where the green liquor flows through. The remains is a clear liquid instead of blackish liquor. The liquid then flows back into the system.
– When using ordinariy filters particles of charcoal remains, which causes clogging and production stop, says Managing Director Lennart Källén.
The technology involves an energy saving of 5-8 million SEK (0.8 million euro) per year for a normal-sized factory.