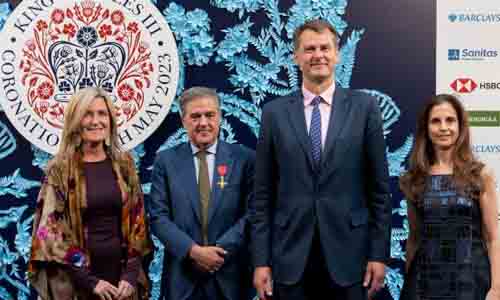 Representatives of Saica Group were honoured to attend an event to celebrate the Coronation of King Charles III, in the Palacio de Cibeles, Madrid, on Wednesday (17 May).
Organised by the British Ambassador to Spain, Hugh Elliott, the event was a way to celebrate, according to the Embassy, "the close relationship between our peoples, modern parliamentary monarchies with strong and deep historical, security, cultural and commercial ties".
Attending the event on behalf of the company were President of Saica Group Ramón Alejandro.
Saica has strong bonds with the UK, having first entered the UK market in 2006 with the purchase of corrugated packaging plants. In 2012 Saica then opened what is still the most modern paper mill in the country, also known as PM11, in Partington. This milestone was key to integrating its sustainable closed loop model in the UK and joining up its existing Saica Pack and Saica Natur UK business divisions. In 2015, it also entered the world of flexible packaging with Saica Flex, which now operates from four locations in the UK.
In 2021, Saica opened a sorting plant in Partington to clean and sort 100% of Greater Manchester's collection of over 80,000 tonnes per year of paper and cardboard, an investment of £9 million. And Saica Pack has opened a more than £80 million flagship facility in Livingston, Scotland, another demonstration of its commitment to the British market for the long-term.
The group now employs around 2,300 in the UK and operates from 20 sites in the UK and since its entry, has invested more than £700 million into the UK market.
Ramón Alejandro, President of Saica Group, who was last year appointed as an Honorary Officer of the Most Excellent Order of the British Empire (OBE), for services to the environmental sector, commented:
"We were honoured to attend this event in honour of King Charles' Coronation. The bonds between Saica and the UK are deep and strong and we continue to invest in the UK for the long-term."