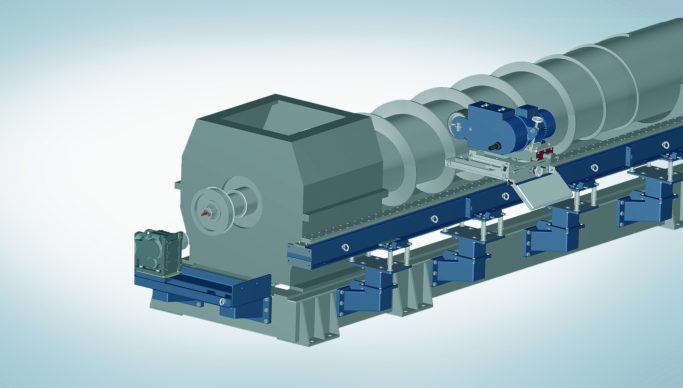 Voith's new refurbishment service for screw presses enables the full restoration of screw performance and reduces downtimes by up to 20 percent compared to conventional repair methods. With SmartGrinder, the new refurbishment service, customers can restore original screw performance and achieve an optimum balance between operating costs and technological performance – a decisive factor for paper quality and cost efficiency in paper production.
SmartGrinder: restoration of original screw performance and reduced downtimes
SmartGrinder is a modular system that can be set up during operation according to the size and requirements of the screw press to be serviced in order to minimize downtime and production losses. Before proceeding with the repair, a detailed digitized condition measurement is carried out for the screw stem and flights. This allows a professional analysis of the existing wear pattern, indicating the areas that require additional attention.
The design of the SmartGrinder allows a fast and highly precise restoration of the press screw diameter. "It can thus follow the flight geometry exactly, reducing downtimes by up to 20 percent compared to conventional repairs," says Geert Tichler, Senior Product Management & Global Expert Refurbishment Technologies, Voith Paper. "As our service provides the flights with the required sharp edges, this results in an optimum removal from the fibermat."
No need to dismantle the screw or to use spare screws
After the first service, the SmartGrinder can be replaced even faster because the assembly plates remain on the screw press. In addition, all new Voith screw presses are already equipped with designated assembly plates, allowing fast and specialized Voith on-site services. When repaired using the SmartGrinder, there is no need to dismantle the screw or to use spare screws, and costly screw transport is eliminated.
Expansion of Servolution portfolio with refurbishment services
The SmartGrinder ideally complements Voith's Servolution portfolio. Similar systems for the reconditioning of product geometries are already in use not only for screw presses but also, for example, for disc filter centershaft repairs.
For more information, click here.