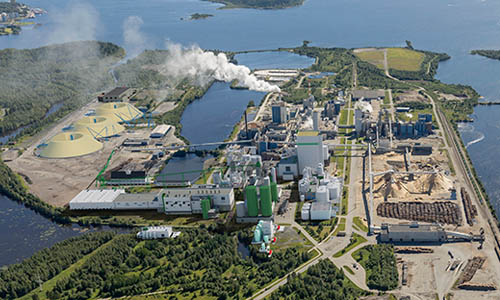 Metsä Fibre, part of Metsä Group, will start the preparatory work as a part of the pre-engineering at the Kemi mill area during July 2019. Preparatory work means the cleaning and organisation of land areas and the demolition of buildings. In addition, the electricity, IT and piping connections of the operational pulp and board mills in the planned bioproduct mill area will be organised. The preparatory work ensures the proficient progress of the construction works following the possible investment decision. The investment decision of the bioproduct mill is made earliest at the summer 2020, after which the construction of the new mill would begin. The new bioproduct mill could start up in the first half of the 2020s.
The 21 buildings to be demolished are mainly buildings that have remained unused for long periods of time and are partly in a poor condition. The municipality of Kemi granted a demolition permit in June 2019, and the demolition of these buildings does not require building permits for the new mill.
The preparatory work of the pre-engineering phase may cause occasional noise outside the mill area, generated by the chipping and crushing of concrete. Dust will be prevented from spreading by means of continuous watering. The work will continue until January 2020.
The areas where the work will be carried out have been closed for safety reasons. Metsä Fibre is responsible for the preparatory work.
If implemented, Metsä Group's bioproduct mill in Kemi would be the largest wood-processing plant in the Northern hemisphere. With a value of around EUR 1.5 billion, the bioproduct mill would be the largest investment in the history of Finland's forest industry. Efficient in terms of the environment, energy and materials, the mill would operate entirely without fossil fuels and produce 1.5 million tonnes of softwood and birch pulp and many other bioproducts annually. Its wood consumption would be 7.6 million cubic metres per year. The new mill would have a significant impact on the Finnish national economy: it would employ around 2,500 people throughout its direct value chain in Finland, including 1,500 new jobs.