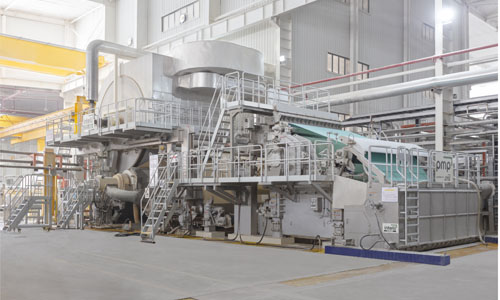 PMP (Paper Machinery Producer) is supporting the dynamic development of one of the biggest pulp and paper companies in the world for almost 20 years. One of the significant examples of our partnership was the delivery 25 Intelli-Jet V® Hydraulic Headboxes for both, tissue and paper machines. 
On 24 of May,2019 APP has decided to award PMP with another project. This time scope of supply covers (18) eighteen complete Tissue Machines to APP's new mill in Rudong Jiangsu, China. APP has decided to execute the project together with PMP, due to excellent cooperation in the past and the state-of-the-art technology implemented by PMP worldwide. APP has chosen Intelli-Tissue® EcoEc 1600 Premium, from a wide span of tissue making solutions offered by PMP. It is a perfect match for APP, thanks to premium tissue quality provided from the 1st day, very low media consumption, high capacity of the machine and high efficiency (over 95%). Furthermore, the project has a high return on investment what sealed the agreement between both companies.
All eighteen (18) Tissue Machines will be designed and manufactured with the same concept to produce tissue from 11,5 up to 22,0 gsm at the reel. Machines are designed for a maximum speed of 1600 m/min. Intelli-Tissue® EcoEc 1600 platform is a perfect balance between achieved capacity and optimum energy savings.
In the scope of supply of each machine, there are PMP's core technological items such as:
Intelli-Jet V® – 5-channel, single layer, hydraulic headbox. Implementation of Intelli-Jet V® headbox secures hydraulic stability, sheet edge quality, perfect basis weight profile as well as low electric power consumption of the fan pump.
Intelli-Former® – Crescent Former type, a compact design with the optimum catch of the jet beam from the headbox and efficient dewatering.
Intelli-Press® – Single press design with a cantilevered framework. Intelli-Press® is equipped with Intelli-SPR® – Suction Pressure Roll dia. 1421 mm with PU cover and high Nip load up to 115 kN/m. This solution enables to maximize the amount of water removed from the sheet while keeping product quality at the highest level, lowering media consumption and boosting machine capacity.
Intelli-YD® – Steel Yankee Dryer dia. 18 ft (5480 mm) manufactured with the highest quality, certified materials, with optimized shell structure what brings high drying efficiency with ultra-low media consumption.

Intelli-Cap™ – Exhaust Cap over the Yankee Dryer assures efficient moisture removal at the same time providing a significant decrease of media consumption compared to conventional solutions.

Intelli-Reel® – Reel providing efficient, high speed, continuous paper winding and perfect parent roll structure.
As an addition, PMP has provided parts of approach flow equipment, mechanical drives, steam & condensate system, lubrication system, hydraulic system, wet dust & mist removal system, machine controls, as well as all necessary training, shop floor assembly and start-up supervision.
New machines will strengthen APP position on Chinese tissue market adding capacity of premium products with low green footprint thanks to ultra-low media consumption provided by PMP's Intelli-Tissue® EcoEc line.