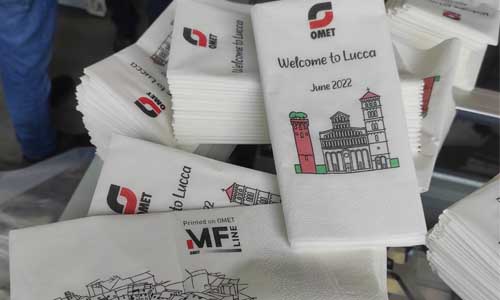 OMET group is divided into three business divisions: label and packaging printing machines, tissue converting machines and Systems in motion; in addition to these there is OPAC, a company that produces wet wipes. Next year OMET will celebrate the 60th anniversary of its founding in 1963. OMET's business divisions are based on constant research and development, with the aim of creating high-performance printing and tissue converting machines.
The product portfolio of the Tissue Converting unit includes 10 main lines for the automatic production of paper napkins, hand towel, facial tissue, placemats and non-woven products for various applications.
During its Open Houses at iT's Tissue, OMET had 4 lines in demonstration.
The ASV Line is the high modular automatic interfolding line for the production of interfolded tissue products. It is available in different configurations to satisfy all the specific requests. The first ASV Line in demonstration is configured for hand towel and interfolded toilet paper production. The maximum speed of this machine is up to 300m/min, absolutely the top performance machine on the market!
The second ASV Line is arranged for facial tissue production. Flexibility and efficient production process are the key points of this OMET line, also thanks to its ease of use and high productivity, as well as the ability of the line to adapt to various production needs.
After the excellent performance of the two interfolding lines, let's now move on to the folding lines.
The MF Line is the revolutionary OMET machine for the production of all types of napkins made of different materials, types of fold, embossing and flexo and digital printing. The new folding head is a vacuum/mechanical technology developed by OMET to provide the maximum flexibility in terms of folding options.
From its continuous research, OMET introduces the RED Line. A new napkin converting line that, thanks to a new production process and a servo-driven cutting unit, specially developed by OMET to reduce time and waste, is able to double the standard output up to 10,000 napkins/min.
OMET always provides support to its customers and their production needs, this is why OMET is investing in different Digital Transformation projects, having recognized before others the importance of this revolution and the potential of this new world. Among the initiatives that the company is developing for its customers, are: the Digital Twin, Galileo – the new OMET customer service, NOVA app, OMET Smart and E-Spare.