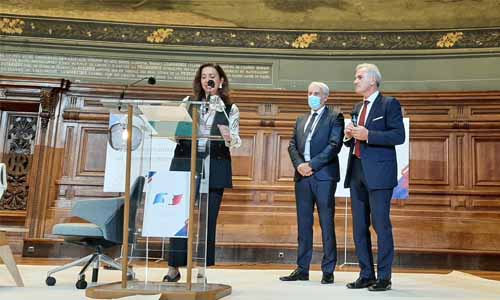 Following the Choose France Summit for foreign investors in which Norske Skog took part in June, the Vosges-based newsprint manufacturer decided in August to submit an application for the Choose France Award. Organised by Business France, this prize rewards international investors and their contribution to the France Recovery Plan in five categories:
– Ecological Transition ;
– Competitiveness & Innovation ;
– Cohesion & Solidarity;
– Contribution to the Recovery Plan;
– Talents.
More than 50 foreign companies, established in 12 different territories in France, submitted applications.
The winners were selected by a Jury composed of institutional and highly qualified people from international groups, and chaired by Pascal CAGNY, Chairman of the Board of Directors of Business France. They made their choice by analysing the way in which the candidates contributed to the "France Relance" plan in terms of each theme. Thus, on the evening of Tuesday, October 5, 2021, in the Sorbonne amphitheatre in Paris, Norske Skog Golbey was awarded the Ecological Transition prize for its investments in the environment, through its BOX and CRE5 projects.
Under the aegis of the Ministers Bruno LEMAIRE (Minister of Economy and Finance) and Franck RIESTER (Minister Delegate, in charge of Foreign Trade and Attractiveness), Pascal CAGNY and the members of the Jury called the winners of the 5 categories to the stage. The CEO of Norske Skog Golbey, Yves BAILLY, was able to take the floor and present our company, its ambition and its environmental actions.
"Norske Skog is aware of the role it has to play with regard to the climate. This is why it has always oriented its strategy towards ambitious and virtuous industrial and environmental objectives.
Since its creation, our French business unit has integrated the circular economy and industrial ecology schemes into its environmental policy. Our investment projects of 250 and 160 million Euros reinforce this commitment. They will enable us to diversify but also to achieve our group's climate ambitions (reduce our direct CO2 emissions by 55% (kg/tonne of paper) by 2030 (base 2015)). To achieve this, we will continue our work on alternative transport, the use of green energy, and the recycling and recovery of our waste.
said Yves BAILLY, CEO of Norske Skog Golbey.