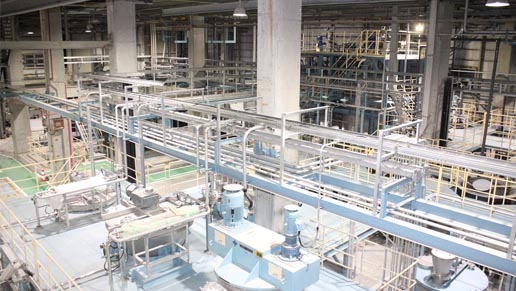 Nippon Paper Industries Co., Ltd. announces the construction of a new facility for the functional cellulose product carboxymethyl cellulose at the Gotsu Mill (Gotsu City, Shimane Prefecture). Nippon Paper Industries will invest approximately 4.7 billion yen into this facility, which is planned to be completed in November 2020. Upon this construction, Nippon Paper Industries will re-establish a CMC production system and work toward a shift to high-value-added and high-quality fields such as special brands for food and lithium ion batteries developed with its unique technologies.
CMC is an anionic, water-soluble polymer that is derived from wood cellulose. Because it is derived from wood, it offers slow biodegradability and is also known as an eco-friendly material. Since it features outstanding adherence, water absorption and water retention, it is widely used for food, hygiene and industrial applications. Recently, applications for lithium ion batteries are increasing and future growth is expected.
Nippon Paper Industries has experience with manufacturing products derived from wood such as dissolving pulp and functional chemicals at Gotsu Mill, which is its main factory in our chemical business. In September 2017, it launched a cellulose nanofiber mass-production facilty as a new member of the CMC lineup. With this increase in production capacity, Nippon Paper Industries will work to strengthen the foundations of the business, aiming for further expansion as a comprehensive biomass company shaping the future with trees.