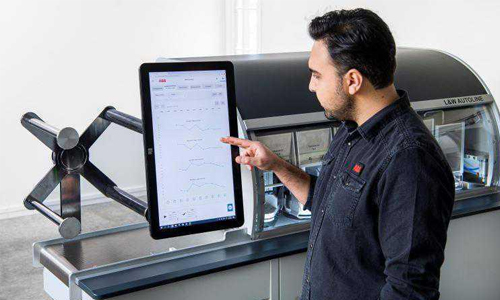 ABB's next-generation system provides rigorous quality control information, up to 10 times faster than manual testing, to enable the rapid reduction of off-spec production
Technology leader ABB announces its enhanced L&W Autoline automated paper testing system, scalable to fit any lab and user-friendly in operation for those new to automated testing. The fast, accurate solution optimizes quality control and minimizes operational costs for all papermaking operations.
For intuitive simplicity, L&W Autoline incorporates a unique, visual touchscreen interface, requiring minimal training to master. Other features include the smoothest and most reliable feeding system on the market, that pulls the samples through the machine to minimize jamming; a unique dual test function to reduce queuing by allowing simultaneous testing; high-volume information storage, enabling identification of quality trends over time; and real-time visualization, providing direct feedback to operators on the unit and throughout the mill.
The system—which can handle everything from sample preparation to the final reel report—radically reduces dependence on manual testing, enabling resources to focus on continuous and sustainable quality improvements while reducing quality control costs.
"Our pioneering L&W Autoline automated paper testing solution plays a crucial role in mill digitalization by enabling faster, smarter decision-making and process adjustments," said Per Sandstrom, head of lab and process testing measurements for ABB pulp and paper. "With this system, customers gain the benefits of direct access to more information in less time, in a scalable package suitable for operations of all sizes."
The speed at which the system gathers information and highlights off-spec data facilitates rapid process tuning 24/7, 365 days of the year. Visualizations are instantly available in real time to operations and engineering personnel both locally and remotely, to ensure production targets and quality specifications are fulfilled.