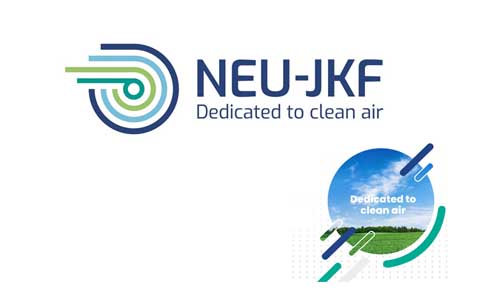 By joining forces within NEU-JKF, NEU, a company specialising in air quality in industrial environments, and JKF, a Danish specialist in equipment dedicated to air purification, intend to provide an ever higher quality service and strengthen their international presence. The group's expansion strategy has now been formalised by a new common graphic identity.
Initially remaining as they were, and then grouped together under the name NEU, all the entities of the industrial group are now grouped together under the same brand identity, that of NEU-JKF, with the same graphic charter and a more coherent & legible name:
– NEU RLS becomes NEU-JKF Wood Industry: it was the first entity to change its identity. They are real experts in air treatment in the wood industry.
– Delta NEU becomes NEU-JKF Delta NEU: a brand that designs, assembles and installs equipment dedicated to air purification in working environments.
– NEU Fevi becomes NEU-JKF Fevi: this brand designs industrial fans (centrifugal fan, axial fan, radial fan), both standard and specific.
– NEU Process becomes NEU-JKF Process: a brand that designs and manufactures fully automated systems for pneumatic transfer and processing of bulk products (powder or granules).
– NEU Automation becomes NEU-JKF Automation: a brand specialising in the design of industrial automation (industrial and tertiary programmable logic controllers, supervision, acquisition, field networks, etc.).
By combining their skills, NEU and JKF have created a positive dynamic that will allow them to strongly increase their innovation capacities. The two companies have been able to combine their research programmes and the technological advances of their respective R&D departments. Each company retains its specificity, but they are now moving forward within a strong global brand.
The group has 650 employees, 10 subsidiaries, 1 training centre, 1 test station and over 35,000 customers.
Each entity has its own dedicated department, allowing the teams to be mobilised for an efficient intervention capacity. Customer Service carries out 600 interventions per year and has more than 100,000 references.
With several decades of experience in the air conditioning market, NEU-JKF is a major player in the industry. The French group has also chosen to anchor its know-how in France: its R&D centre and its manufacturing workshops are located in France. NEU-JKF is also a member of the French Fab, which brings together French industrial players defending French know-how and French manufacturing.