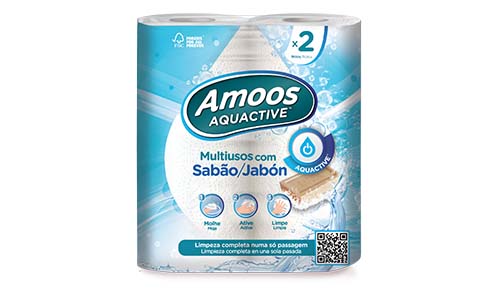 The Navigator Company has just launched a new generation of tissue paper that is impregnated with soap – Amoos AquactiveTM – whose innovative technology, Aquactive™, is activated when the paper comes into contact with water, immediately producing soap foam. This new generation of multipurpose paper ensures speedy and safe cleaning, simplifying the daily lives of families and citizens.
Amoos AquactiveTM is paper that comes from renewable resources, made of virgin fibre, FSC® certified (Forest Stewardship Council, License code: C008924), dermatologically tested and contains soap made from natural additives.
It is a much more hygienic solution in comparison to the traditional kitchen towels, since it avoids the build-up of germs and bacteria, and may be used on any surface to clean all types of dirt and grime (counters, floors, bathroom fittings, glass surfaces, microwave ovens and tables), cleaning them in one wipe.
Amoos Aquactive™ is a 2 in 1 multipurpose paper which houses the power of soap in order to make the daily cleaning and disinfecting of surfaces easier, and it is strong enough to absorb and clean anything without the sheets breaking down while they release and activate the soap foam. It gives off a pleasant lemon scent that reinforces the feeling of cleanliness.
In a study conducted by The Navigator Company and GFK in August 2020, it was found that among a sample of consumers in 3 countries (Portugal, Spain and France), over 50% of those interviewed expressed the intention of buying Amoos AquactiveTM paper as a complement to the traditional kitchen roll.
After using this new product, 82% of those surveyed, described it as "totally new and different" or "something new and different" and 70% expressed their satisfaction by saying "I liked it a lot" or "I liked it". The main uses identified by those interviewed were cleaning kitchen surfaces, cleaning glass and cleaning hands. The major benefits were the quality cleaning, the paper's practicality, esse of use and proven strength.
All paper manufactured by The Navigator Company is sustainable, environmentally responsible and biodegradable, and is based on a renewable natural resource, planted specifically for that purpose.
Amoos Aquactive™ comes in two formats: the two American rolls format and the single XXL roll format for more intensive use.
See how the Aquactive™ technology works: https://amoospaper.com/aquactive/