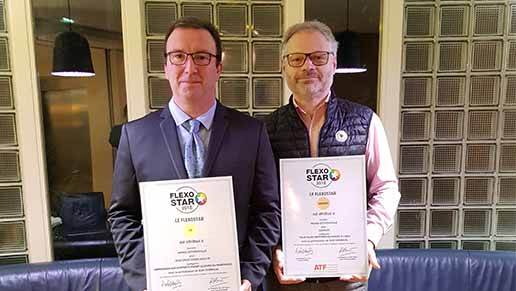 Mondi's printing prowess – on both paper and plastic – is garnering attention for the third year in a row from Europe's leading flexo printing associations.
The juries of the French Association of Flexography (ATF Flexo) and the Italian Technical Association of Flexography (ATIF) both bestowed awards on Mondi recently, in recognition of the company's bag-printing quality and expertise.
Paper offers a natural look, and, of course, is a renewable resource, adding to a product's sustainability story. However, it still needs to look good – and the judges agreed that Mondi achieved that through its precision printing.
Printing quality is vital, as the look and feel of the package – whether on store shelves or when delivered to customers via e-commerce – is a direct reflection on the brand in the minds of end consumers. Projecting a quality image helps to reinforce brand credibility and can help to boost sales.
On December 13 in Paris, ATF Flexo presented Mondi with two awards – a Gold Flexostar award in the "Printing on Paper" category for its Dog'Croc Chien Adult bag made for French animal nutrition specialist Sopral. It also took home a Silver Flexostar in the "Printing on PE Film" category for its hybrid film/paper Canicaf dog-food bag made for Paris-based customer Néodis. The French competition attracted 135 entries from 38 companies.
The Dog'Croc Chien Adult bag stood out for its extremely precise printing of a dog and child image on the package. The glossy, four-ply, pinch-bottom bag incorporated seven colours as well as lamination.
The two-ply, pinch hybrid open Canicaf bag for Néodis, meanwhile, involved accurately printing seven colours on polyethylene film.
"We are proud to win these awards," said Christian Latorre, Managing Director of Mondi Lembacel SAS in Bétheniville, France, "because the jury consists of printing professionals from across our industry. These honours also shine a further light on our Bétheniville plant, which already has an excellent reputation for its printing quality. "Mondi is devoted to leveraging its printing expertise to help its customers and their products look their very best," added Latorre.
This marks the third straight year that Mondi has been honoured by ATF Flexo for its printing excellence. (Press release April 2017)
Separately, ATIF in Italy bestowed honours on Mondi in the "Printing on Paper" category for its innovative line of dog food packaging based on Mondi's FlexziBox concept. The awards ceremony took place on November 20 in the venue known as Spazio Hera in Bologna, Italy.
This is the second year in a row Mondi has won a printing award from ATIF in the category "Printing on Paper," after taking home the first-place prize in 2017 for the high-quality printing on one of its self-standing, open-mouth bags. This year, the award-winning product (REAL NATURE Crafted Choice) was produced for our customer Mera Tiernahrung GmbH, which supplies private-label pet food to the German retailer Fressnapf Tiernahrungs GmbH.
Mondi Padova, near Bologna, did the award-winning printing and laminating onto paper reels and then shipped the material to Mondi's plant in Steinfeld, Germany, to be converted into bags.
ATIF's annual "Best in Flexo" printing awards competition in Italy includes 12 different categories (printing on film, paper, and corrugated paperboard, in different widths), and the 2018 ATIF jury assessed more than 130 total entries. For each category, a jury of experts analysed the main printing parameters and quality, before selecting first-, second- and third-place winners.