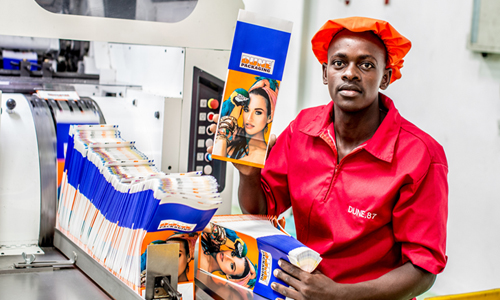 Dune Packaging Ltd has partnered with Mondi to grow its market share by offering more complex, multicolour designs on its open mouth paper bag packaging. Working with Mondi, Dune Packaging is now using Mondi's Advantage Kraft White Print paper to produce high quality packaging for consumer food produce including flour, maize and grain. The current market norm in East Africa is two-colour flexo printing thereby limiting the "shelf appeal" for consumers.
By investing in improved machinery as well as upgrading the bleached kraft paper they use has enabled Dune Packaging to supply bags of even higher quality and value to their growing customer base.
"We identified the possibility of changing the Kenyan milling industry's packaging towards full-print, six-to-eight colour sophisticated designs that are pre-printed. Mondi showed us the Advantage Kraft White Print grade and we knew it would help clients differentiate their products. Taking that first step required us to purchase an 8-colour Miraflex. It has been so successful that we have since installed our second, and now both printers are already running at full capacity using Mondi Advantage Kraft White Print," said Rohin Chandaria, CEO of Dune Packaging.
Conny Josefsson, Sales Director for Mondi Kraft Paper, explains: "Our clients prefer to use Advantage White Kraft Print on demanding jobs that require a more complicated print, highly detailed graphics or substantial ink coverage of the surface. In other words, they use our Print grade when their customer requires the best possible shelf appeal of the product being packed."
Inspired by the positive experience of working with Mondi and its market-leading products, Dune Packaging is expanding the range of Mondi's kraft paper products used in its packaging portfolio.
Two more Kenyan based Mondi customers, Paperplast and King Plastics, have now also invested in upgrading their facilities by purchasing Miraflex 8-colour printers to offer the benefits of Mondi's Advantage Kraft White Print.