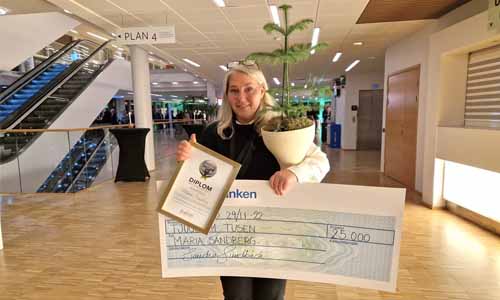 This year's Paper Province Award goes to Maria Sandberg, Associate Professor of Environmental and Energy Systems at Karlstad University. Her research builds bridges between the research and business worlds, and paves the way for new value-added materials and products in the circular forest bioeconomy, created from residues and waste of the mills.
"It feels very honourable and fun! My research is about bioeconomy, so it is truly great to be recognised for that," says Maria Sandberg.
The motivation for the Paper Province Award highlights that Maria Sandberg's research connects academia and the industry. Among other things, she is working on a research project to develop products made from forest-based residues.
By harnessing residues, in this case industrial excess sludge, and converting it into biochar for use as fertiliser, Maria and her team aim to contribute to the circular economy.
"Maria Sandberg is a valuable partner for Paper Province and the development projects that we are involved in together with Karlstad University and other key players. Through her openness and commitment, we have over the years taken important steps forward in the development of a more circular forest and paper industry," says Sandra Sundbäck, CEO of the world-leading bioeconomy cluster Paper Province.
Reoccurring award
The announcement was made in connection with the Connected by Roots event, held in Karlstad, Sweden. The jury presented Maria Sandberg with a 3D-printed trophy, a diploma, and a cheque for SEK 25 000.
The Paper Province Award has been presented annually since 2018 and aims to recognise and reward individuals, groups or companies that have made significant contributions to the development of the forest bioeconomy.
"It is important to recognise those who are leading the development and commercialisation of new, innovative solutions. Often this work is done relatively anonymously, but we want to help make the efforts visible to as many people as possible," says Sandra Sundbäck.