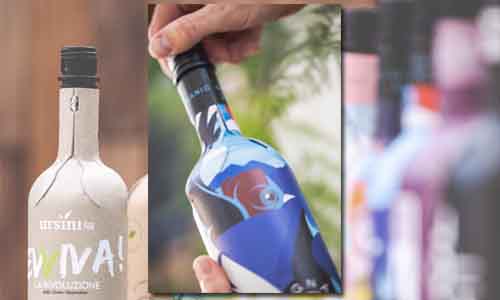 The world's first and so far only carton wine bottle consists of 94% Varel recycled products. The British manufacturer has now won international packaging innovation awards with it.
According to the manufacturer Frugalpac (UK), the "Frugal Bottle" is the first and so far only commercially saleable bottle made of recycled cardboard. Frugalpac, together with the US wine brand Signal 7 Wines, has now won awards for technical innovation and sustainability at the PAC Global Packaging Awards in New York.
All "Frugal Bottles" produced so far are made of the cartonboard product Jade Board® Duo White produced by PKV. Both the cardboard sleeve and the food-safe pouch inside the bottle can be recycled after use.
According to Frugalpac, the materials and lighter weight of the bottle can save 84 percent CO2 emissions compared to traditional glass bottles. More than 30 beverage producers in 18 countries around the world are now using the carton bottle developed in 2020 for wine, olive oil or spirits.