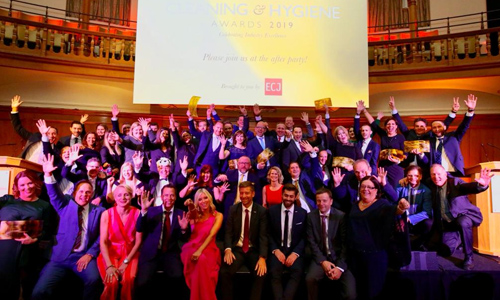 During the 2019 European Cleaning and Hygiene Awards, event held in London by the European Cleaning Journal on October 17th, Municipal-Material-Cycle® has been awarded as Best European Initiative Raising the Profile of the Professional Cleaning Sector.
The project, born with the aim of developing a system of circular economy, durable and replicable, able to actively involve local communities, consists in recycling and converting beverage cartons into new paper products for hygienic and sanitary use.
Thanks to the cooperation of the local waste management company and the consortium that manage, separate and sort the materials on their platforms, Lucart has collected and collects the used beverage cartons and recycles them through an exclusive production process. The company is in fact able to separate the technical component (polyethylene and aluminium) from the biological component (cellulose fibers) of beverage cartons: the first is used to produce dispensers and pallets made of recycled plastic, the second to produce the tissue products in the Grazie Natural and Lucart Professional EcoNatural range. These tissue products (towels, toilet paper, napkins, etc.) are sold, together with their dispensers, to a local distribution partner who delivers the products to the bathrooms of public offices, schools, public companies and sports and recreation centres in the area from which the recycled beverage cartons come. The whole cycle is carried out with the approval of the competent municipal administration.
"We are proud to have received this award, which is for us a tangible recognition of our commitment to the environment and to a concrete circular paper economy." said Francesco Pasquini, Sales & Marketing Director AFH of Lucart "The MMC® project is not only a model of Circular Economy, but also a virtuous example of partnership between companies. Our local distribution partner Valtex, in fact, believed in the project's potential right from the start and played a fundamental role in involving local communities and administrations".
The MMC® project, which started in 2015 in Slovenia with a trial period in the city of Novo Mesto and seven neighbouring municipalities, initially involved the local community (about 65,000 inhabitants), leading in three years to the recycling of about 105 tons of beverage cartons. In 2019 the project was also activated in Ljubljana, with a potential for recycling and consumption almost five times higher than that of Novo Mesto.
Today MMC® is also being internationalized in other countries, thanks to a team of professionals who will offer advice and support to distributors interested in proposing the project to their local communities.