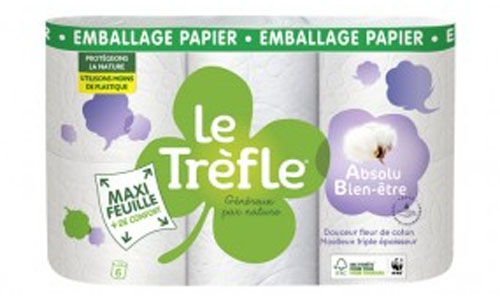 Le Trèfle Absolu Bien-Etre, the Premium version of the well-known toilet paper brand, will be hitting French supermarket shelves starting from November with kraft paper packaging.
The product that will replace the previous polyethylene packaging represents a new contribution towards environmental sustainability by the Sofidel Group.
Le Trèfle toilet paper, which retains the same product quality of the tissue brand that the French have learned to love since 1904, is now moving to packaging in kraft paper – a plant-based material that is renewable, biodegradable and easy to recycle.
"Le Trèfle toilet paper with kraft paper packaging keep looking to the future," says Philippe Defacqz, Sofidel Line of Business Director – Brand. "The brand in France has been synonymous with innovation, quality and originality since over a century. We're now aiming at meeting the growing demand for environmental awareness by French consumers and, above all, to help fight plastics pollution."
Thanks to Le Trèfle and Sofidel's other major European brands – Regina, Cosynel, Nalys, Sopalin and KittenSoft – this contribution is set to eliminate the equivalent of 600 tons of plastic packaging per year by the end of 2020. The Group's strategy therefore implies the replacement of all products that are wrapped in paper packaging.
This decision is part of an overall goal set by the Sofidel Group: a 50% reduction in the use of conventional plastic in its production by 2030 (compared to 2013), which is equivalent to the elimination of over 11,000 tons of plastic every year. This goal is not only pursued with the introduction of the new kraft paper packaging but also with a general reduction in the thickness of the plastic film used in the production process (launched some years ago), and with the progressive use of recycled plastics or bioplastics on some markets.
This new phase of the sustainability strategy – developed with particular focus on the 12th Sustainable Development Goal of the United Nations 2030 Agenda, Responsible Consumption and Production – is consequential to and consistent with the policies and investments made by Sofidel over the last years in terms of:
responsible procurement of raw material (100% cellulose certified by independent third parties in compliance with forestry certification schemes);
energy-efficient plants (over 100 million euros in investments in cogeneration, photovoltaic, hydroelectric and biomass energy over a period of 10 years – 2009/2018);
rational use of water resources within production processes (7.1 l/kg against a sector benchmark of 15-25 l/kg);
technological innovation of production assets (Advantage New Tissue Technology (NTT) paper machines by Valmet and Constellation converting lines by Fabio Perini).