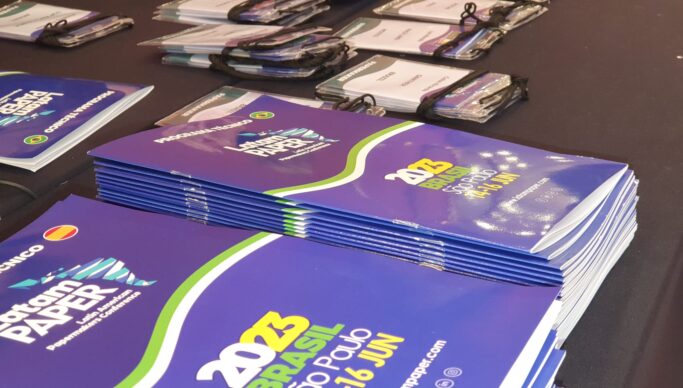 Following its successful editions in Panama, Mexico, and Peru, the LatamPaper event has returned to Brazil for its 5th edition. Around 300 paper and tissue producers from Brazil and the entire region, including Chile, Argentina, Ecuador, Paraguay, Colombia, have once again responded to the invitation to attend this technical seminar. The event is being held at the Bourbon resort in Aitaba, located in the suburbs of Sao Paulo.
Over the course of three days, the event features a series of technical presentations in parallel sessions. This year, more suppliers than ever have chosen to share their expertise in optimizing various aspects of the paper and tissue manufacturing process, such as stock preparation, doctoring, machine clothing, energy saving, water management, and more.
The exhibition hall provides space for more than 70 tables, where suppliers from Brazil, Peru, the United States, Europe, India, and Turkey display their literature and engage with potential clients during coffee breaks and social moments.
Furthermore, a gala dinner will be held, during which an award ceremony will celebrate Germano and Emilio Purnhagen, the President and Executive Director of Hergen, a Brazilian machinery manufacturer.
On the Friday,the organisers are inviting paper producers and tissue converters to a free "OPEN DAY for PAPERMAKERS and TISSUE CONVERTERS" from 9:00 to 13:00 hours
Looking ahead, the next Latam Paper event is already scheduled to take place in July 2024 in Mexico City.