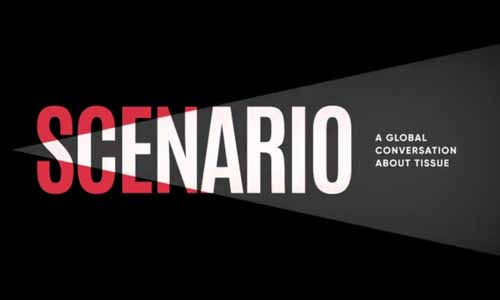 SCENARIO, A global conversation about tissue, is an exlusive event which takes place 1st July from 15.30 to 17.30 in the Church of San Francesco in Lucca.
The event, entitled "The key drivers of post-Covid mass consumption, between innovation and environmental sustainability", will be moderated by Sebastiano Barisoni, Deputy Executive Director of Radio 24, renowned and accredited economic journalist for "Il Sole 24 Ore" who will host Keynote Speakers Joseph Stiglitz, American economist and author, winner of the Nobel Prize in Economic Sciences in 2001, Luciano Floridi, Professor of Philosophy and Ethics of Information at the University of Oxford, and Blake Moret, CEO of Rockwell Automation.
The conversations will be preceded by an overview, conducted by Euromonitor, on the potential of tissue in relation to the macro trends which affect hygiene and to new socio-economic scenarios.
SCENARIO will be an opportunity to hear some of the most authoritative voices on industry and the global economy, answering a series of questions on the future of post-covid mass consumption in terms of environmental sustainability, innovation, ethics, economy and the new development models in the tissue sector.
The event will be streamed free of charge from 15th July for those who register at https://www.tissueconvergence.com on the news digital platform Convergence, created by iT's Tissue, as a communication medium for their business network which is a point of reference for the industry itself. Scenario will be the first in a series of content promoted on the platform which will become a discussion forum for the entire tissue supply chain: companies, customers and industry experts.
THE TISSUE ITALY NETWORK
The Tissue Italy Network was founded in 2012 by 12 Italian companies, all leaders in their sector, with the aim of contributing to the development of "made in Italy" technological excellence for tissue and to organize the unique international event: iT'sTissue.
12 companies which share the same values and ethical approach and which represent a point of reference for the global tissue business.
The Tissue Italy Network is: ACELLI PAPER, ELETTRIC 80, KÖRBER, FUTURA, GAMBINI, OMET, PCMC, PULSAR ENGIINERING, RECARD, TMC, TOSCOTEC
Here is a brief summary of the companies in the network, in their own words:
A.Celli Paper S.p.A.

A.Celli Paper S.p.A. specializes in technologically-advanced system solutions for complete turnkey plants, in the manufacture and rebuilding of tissue paper machines with a daily production capacity from 30 to 260 tons, rewinders for tissue, paper and cardboard, as well as flexible packaging and roll handling systems. A.Celli Paper offers Digital Solutions to optimize production and maintenance processes, by developing advanced DCS controls, innovative industrial automation applications and integrated automatic warehouse solutions.

Elettric 80

Founded in 1980 and headquartered in Viano (Italy), Elettric 80 is a global leading supplier of logistic automation solutions to improve the value chain. Elettric 80 systems enable planning and control of production, storage and shipping activities while guaranteeing total traceability of moving products. Elettric 80 handling systems use palletization robots, a wide range of LGVs, high-speed robotic stretch-wrappers (Silkworm) and pallet control systems. The entire process is centrally managed by Smart Decision Maker, developed and designed by Elettric 80.

Körber

Körber's ultimate goal is to empower its customers' ongoing success.
As the only truly integrated and global provider of advanced solutions for the tissue business, Körber offers the industry's most comprehensive portfolio of tissue technology to support customers across the entire value chain – from roll products to folded, from converting to packaging. Its advanced, automated, and easy-to-use integrated solutions are a fundamental asset to shape success in tissue, taking customer operations to the next level, and strengthening their overall financial performance, while optimizing total cost of ownership.

Futura

Futura S.p.A. is the technological leader in converting machinery for consumer and AFH tissue, setting new technological standards for the sector.

Futura owes this position to a culture of innovation, promoting the continuous development of new solutions based on constant analysis of customer needs.

This approach has led Futura to invest considerable resources in R&D, including the dedicated FuturaLab facility. It also motivated the acquisition of Plusline, to create a radical new force for integrating converting and packaging in a single process, from parent reel to shelf-ready pack.

Futura covers the global market with lines developed at its production site in Lucca, in the heart of Italy's tissue valley, with worldwide support guaranteed through its two operating centers, Futura North America and Futura Latin America, and service points in China, Japan and Australia.

Gambini

Gambini is a leading Italian company in tissue converting headquartered in Lucca (Italy) and with a Sales & Service facility in Green Bay, WI (USA). Since 1870, Gambini has continually renewed and innovated, driven by a passion to imagine results even before achieving them. Today, Gambini researches, designs and manufactures technologically-advanced machinery and converting lines for the production of hygienic and personal care tissue products suitable for both the Consumer and Professional markets. Gambini's Flex Lines ensure the highest level of flexibility and performance during the production process while obtaining results never before achieved thanks also to its revolutionary embossing systems combining AirMill technology with TouchMax.

Omet

Omet is a leading manufacturer of a complete range of paper converting machines for the high-level production of napkins in paper, tissue and nonwoven materials, as well as other products such as dispenser napkins or place mats, and high quality paper hand towels, interfolded toilet paper and facial tissue, in-line from roll to finished product.
Printing units, flexo or inkjet digital, can be added in-line to the production machine.

PCMC

Paper Converting Machine Company (PCMC) has been specializing for 100 years in converting machines: a global company with a strong shared culture. PCMC can offer effective solutions in various fields, not only converting but also packaging, flexographic printing, embossing, from rolls to folded, both consumer and industrial.

PCMC has manufacturing operations in Italy (Lucca), USA (Green Bay – WI), the UK (Plymouth), and sales/service offices in Germany, Japan, China, Mexico and Brazil, employing more than 1,000 people worldwide. PCMC is part of the Barry-Wehmiller group, (MO), USA: 108 companies that together provide complementary skills.

Pulsar

Founded in 1989, Pulsar specializes in solutions and technologies applied to product conveying. Since 1990, it has focused on the tissue converting industry, where it is now recognized as the specialist in the design and manufacture of conveying systems for tissue products. During its evolution, Pulsar has developed a range of applications with the aim of becoming a global provider of services for the tissue converting industry.

Recard

Recard specializes in the design and production of custom plants and machinery for the tissue industry, using only Italian and European products of the highest quality. Founded in 1962, the company has reached industrial production levels while still retaining the precious core values of an artisan workshop. This is a philosophy that guarantees maximum production efficiency while never losing sight of the individual customer's needs. The result is a partnership that goes beyond the mere sale of a piece of equipment.

TMC

TMC S.p.A. is a world leader in the design and manufacture of primary and secondary packaging of tissue and nonwoven products. The company's strong focus on customers coupled with a commitment to innovation translates into groundbreaking and flexible high-performance machines, always supported by superb customer service.

Toscotec

Since its foundation in 1948, Toscotec has specialized in the design and manufacture of turnkey projects, complete machines, plant rebuilds and individual equipment for the tissue and paper & board industries. Headquartered in Lucca, with affiliates and service centers in China and North America, Toscotec provides state-of-the-art technology and customized solutions to leading paper producers around the world. Toscotec's technology aims at maximum production efficiency, reduced consumption and operating costs, finished products of the highest quality and respect for the environment.