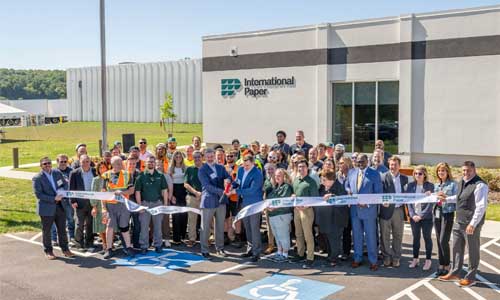 International Paper celebrated the opening of its newest state-of-the-art corrugated packaging facility in Atglen, PA. The new $100 million facility is providing more than 100 manufacturing jobs to Atglen and the surrounding communities. The new facility will produce corrugated packaging for produce, processed food, beverage, shipping, distribution and e-commerce customers.
"Our corrugated packaging business is an important part of International Paper. This strategic investment will add local jobs and help us better serve our customers," said Tom Hamic, Senior Vice President and Chief Commercial Officer, International Paper.

"After months of hard work, it is exciting to see construction complete with machines running. At Atlgen, we are helping to create what's next by making fiber-based sustainable products our customers value," added Darrin Hinds, Regional General Manager, International Paper.
The completion of this project was a collaborative effort between International Paper and local, county and state community partners. Atglen was selected based on its access to a skilled workforce, multi-mode transportation capabilities and easy distribution access to strategic markets.
"Today, we celebrate the hard work and dedication of so many people. This was really a team effort and we're grateful for everyone that contributed to its success including our team at Atglen, colleagues from across International Paper and partners within the community," shared Cameron Rushing, plant manager. "We look forward to being part of the local community and the success of the Atglen facility."