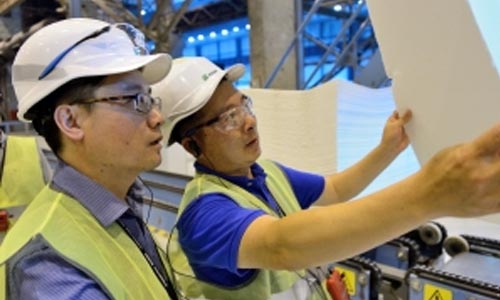 In 2021, Ilim Group, a leading Russian manufacturer of P&P products, celebrates an important anniversary, namely 25 years since the Company started exporting its products to China. Over the past years, Ilim has built a reputation of a reliable partner and has become the largest supplier of bleached softwood pulp to the People's Republic of China. The Company plans to further expand its presence and increase its share in the Chinese market.
Ilim has summed up the results of its export operations in China in 2020. In 2020, Ilim reached a record-high export volume of 1.66 million tons (including 1.49 million tons of pulp and 170 thousand tons of paperboard), which is 33.2 times higher than export volumes in 1996 when Ilim first entered the Chinese market.  Over these years, aggregate export volumes of pulp and paper products have totaled 22.7 million tons.
"Ilim Group successfully came through 2020, which was a challenging year in every respect: Ilim fulfilled its obligations under the contracts with its Chinese partners, having increased sales volumes in accordance with the agreements with its customers. The Company established a new record both in terms of production output and volumes delivered to the strategic Chinese market. We managed to maintain the level of performance of our mills, forests and logistics network and minimize our inventory.
Our Chinese customers and our colleagues from Ilim's representative office in China made it possible for the Company to celebrate the 25th anniversary of its operations in China, which is a very significant event for Ilim. This year we will continue to consistently implement our ambitious plans together with our strategic partners", said Ksenia Sosnina, Ilim Group CEO.
Ilim Group will continue to increase its exports to all regions where it operates and especially to Central and South China. In 2021, Ilim plans to ramp up its exports to China up to 1.7 million tons of products, including an increase of paperboard export volumes up to 200 thousand tons. In 2024, Ilim Group intends to increase its exports to China up to 2.4 million tons.
According to Ksenia Sosnina, the People's Republic of China is a strategically important market for Ilim Group as 44% of all P&P products produced by Ilim are exported to China. China demonstrates a growing demand for P&P products, namely for pulp and packaging materials.
According to forecasts, in 2024 pulp consumption will total 48 million tons with import accounting for 34 million tons.
The Silk Road plays a significant role in unleashing of Ilim's export potential with the flow of goods transported via the Silk Road increased by 171% over the last year. Despite the pandemic, Ilim's flexible and extended logistics network helped to ensure 100% of sales volumes.
Ilim Group is consistently expanding its presence in the Chinese regions. Ilim Group products are consumed by more than 500 mills in 20 regions of China. In 2021, Ilim will start active operations in the market of Southwest China where it intends to become a key player. In December 2020, Ilim Group and its Chinese partner Xiamen C&D Corporation signed an agreement on export to Sichuan, Guizhou, Yunnan and Guangxi provinces, as well as to Chongqing municipality. In the coming four years, Ilim plans to deliver up to 300 thousand tons of pulp and 180 thousand tons of paperboard per year to Southwest China.
Moreover, this year Ilim Group will strengthen and expand its presence in Northeast China. In the end of 2020, Ilim became an exclusive supplier of bleached softwood pulp for Liaoning Yusen Sanitary Products Co, Ltd tissue plant, which is the largest plant in the region with an annual capacity of 360 thousand tons of tissue.
An increase of exports will be possible through implementation of a large-scale investment program. By 2024, Ilim Group will increase the aggregate output of its mills by 1 million tons of finished products.  Construction of a new pulp and paperboard mill in Ust-Ilimsk with a capacity of 600 thousand tons is one of Ilim's key projects which will be started up in 2022.