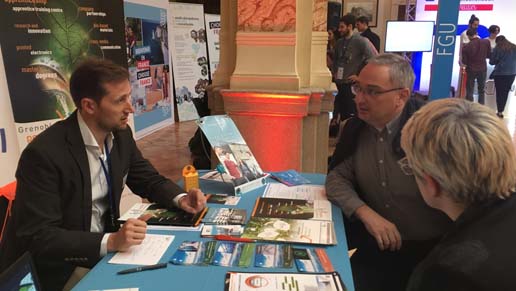 At the beginning of April, Isabelle
Desloges
, Head of International Relations, and
Séverin
Van
Gastel
, Head of International Development and Partnerships, travelled to the Caucasus to promote Grenoble INP and
Pagora
.
The
Choose France
fair
organised
by Campus France and the French Embassy in Georgia took place in
Tbilissi
on 6 April 2019. It
'
s objective? To promote French university courses to young Georgians and to foster cooperation between the higher education establishments of the two countries. During the event Pascal
Meunier
, the French Ambassador, and
Mikheil
Chkhenkeli
, advisor to the Georgian Prime Minister on education issues, officially inaugurated the new Franco-Georgian University, which will offer Georgian students access to dual French/Georgian diplomas.
Several major French universities took part in this inaugural francophone student fair in Georgia, which attracted between 250 and 300 visitors eager to learn more about studying in France and about the Bachelors, Masters and Doctoral
programmes
offered by French higher-education establishments. Students and academics were also able to find out about the training
programmes
available at Grenoble INP
'
s engineering schools,
Pagora
in particular. This was also an excellent opportunity for their representatives to establish new contacts at the Georgian Technical University.
This promotional tour of the South Caucasus continued in Azerbaijan on 7 April at the
Baku Francophone University Fair
, which was held in the premises of the French-Azerbaijan
University.
The fair was jointly
organised
by the French Embassy and Campus France as part of the
Semaines
de la Francophonie
en
Azerbaïdjan
event.
Around ten universities from Azerbaijan, France, Hungary, Moldova, Poland and Romania took part in the second edition of the fair, which was geared towards promoting French-language higher-education
programmes
offered by establishments in member or observer countries of the International
Organisation
of the Francophonie.
The engineering training offered by the Grenoble Engineering Institute, and specifically by
Pagora
, was presented to the country
'
s students. In addition, new contacts were made at Baku Engineering University and
Lankaran
State University.