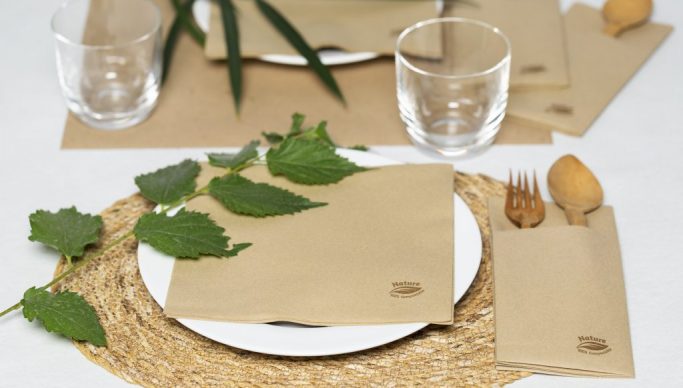 Concern for the environment reaches the AfH sector.
In line with its commitment to protect the environment, the Spanish tissue producer Goma Camps has launched GC Class Nature, a range of kitchen cloth that respect the environment.
One of the main innovations of GC Class Nature is its compostable packaging, made with + 95% renewable material (cellulose and water) from responsible sources (FSC certified). The rest of the components of the container (5%) contain compostable polymers that act as a barrier and ensure the sealing of the pack.
GC Class is a range of differential table linens made with materials with a highly resistant cloth touch, which now takes a step further in sustainability to offer a 100% compostable napkin: not only is the Airlaid material in which the napkins are made compostable, but also the inks and the container are compostable, certified according to the EN13432 standard.
GC Class Nature is presented in two formats: 40×40 ¼ (T224067) and 40X40 KANGUR (T260027) but it will not be left alone, as it is the first of the project being developed by Gomà-Camps to be able to offer a complete range of added value that reflects its commitment to the environment.
The Airlaid collection stands out for including soft cloth napkins. This collection consists of napkins in various formats, tablecloth rolls and placemats and different options of solid colors and designs and the possibility of personalization.