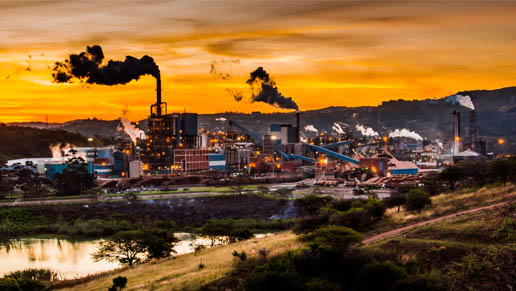 GIG Karasek, a member of the Dr. Aichhorn Group, delivers one of the largest evaporation plants worldwide with mechanical vapor recompression (MVR) with 295 t/h evaporation capacity. Sappi produces dissolving pulp from eucalyptus for the dissolving fiber industry at the mill in Umkomaas in South Africa, near Durban. This plant, with an annual production capacity after upgrade of 890 000 tonnes, is the world's largest sulphite plant. The GIG Karasek Evaporation Plant with mechanical vapor recompression creates a positive impact on the closed loop process and saves valuable resources.
GIG Karasek was selected by the customer for its innovative process solution, which fully meets the customer requirements for high energy efficiency and low emissions. Sappi´s trust is a further confirmation of the excellent process engineering performance over years in the field of evaporation technology for GIG Karasek.
"With this major order, GIG Karasek is systematically continuing its global growth strategy," says CEO Peter Mandl with conviction. GIG Karasek is a specialist in thermal separation technology, in evaporation and distillation technology, especially for applications in the field of the concentration of different liquors in the pulp industry and recovery of solvents in the fiber industry. Customers especially appreciate the innovative process solutions, the excellent manufacturing quality of the core equipment produced in Austria and the proactive working methods of the motivated employees.