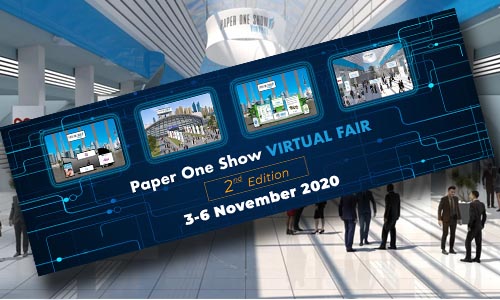 We are proud to announce that the world's first international virtual fair on the paper industry will open its second edition of Paper One Show Virtual
will be held between November 03-06, 2020.
We are excited to welcome you and have you back at Paper One Show Virtual!
Paper One Show Virtual, the 1st edition of the pioneering online paper fair was inaugurated on May 12, 2020 and has been huge success. During the fair, more than 2000 B2B meetings were held, and 3501 stand visits were made in just one week since the opening date. With a second edition of the Show, the fair is once again building off experience and paving the way for a cutting-edge virtual fair experience on 3rd November 2020.
It is time to embrace this futuristic innovative concept in trade fairs!
Paper One Show Virtual enables participants to showcase their products online to the right target audience, enables participants and visitors get to know new markets and opportunities, establish new networks, and also completely eliminate the travel barrier. In addition to the facilities it offers, this platform is free for visitors and it costs almost 96% less than the physical fair for the exhibitors.
Paper One Show Virtual convenes the paper industry online:
4 days of full of business!
WHY WITH PAPER ONE SHOW VIRTUAL?
Years of experience in the sector
Paper One Show is the pioneer in this sector
Focusing on paper market and continuous improvement
Paper One Show is the leading company specialized in paper trade fairs
Strong connections with both suppliers and customers from all around the world
Now the trade comes to you with only one click!
https://www.paperoneshow-virtual.com
 OPEN 24/7 & FREE FOR VISITOR