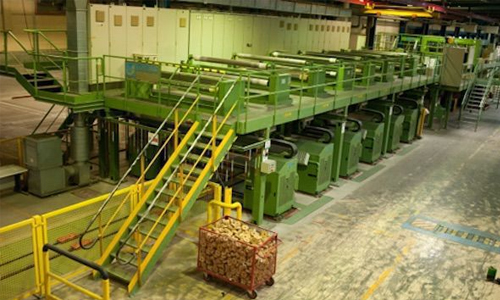 CAP 3RI, the investment company dedicated to the 3rd Industrial Revolution in the Hauts-de-France Region, has invested 3 million € in the Be Paper group, in an acceleration phase in its corrugated paper manufacturing activity.
The fundraising, which exceeds € 10 million, will allow the group to pursue its development project and to establish itself as a significant player in the paper and corrugated board sector in Hauts-de-France. The regional banks, LCL, Banque Postale and Crédit Agricole Nord de France, as well as the BPI and the Regional Guarantee Fund (FRG), support the project in this round table with 6 million €. It should also be remembered that the State, the Hauts de France Region and the Community of Agglomeration of the Pays de Saint Omer were the first partners when the ArjoWiggins site was taken over, alongside the Bréban family.
The Be Paper group is a regional player in the paper and cardboard packaging industry, employing 280 people at the Wizernes and Arques sites. Today, it is made up of 3 operational companies: Express Découpe, Express Packaging and Wizpaper, totaling sales of more than € 35 million over the last financial year.
The group's historic company, Express Découpe, created in 1997 by Henry Bréban and his wife, carries out a paper and cardboard cutting activity and works as a subcontractor for the major players in the paper and board industry. Express Packaging was founded in 2006. It was founded from the printing activity dedicated to the packaging production of the Arc International group. From this creation was born a structure open to the outside, specialized in the design and production of packaging in laminated or flat board, printed in offset.
In 2018, the takeover of the ArjoWiggins paper mill in Wizernes enabled the BE PAPER group to develop a production activity of corrugated paper, in particular light weight (60 to 80 g/m²) from recycled paper.
The site has been in production since the last summer with a ramp-up phase which should make it possible to reach nominal production speed (200,000 tonnes/year) in the course of 2020.
The group has been consolidated by successive acquisitions allowing it to be integrated today on the main links of the paper and corrugated cardboard packaging production chain. The turnover is growing strongly thanks to sustained investments, in particular in the increase of the pulper capacity and the installation of a large format corrugator on the Wizernes site.