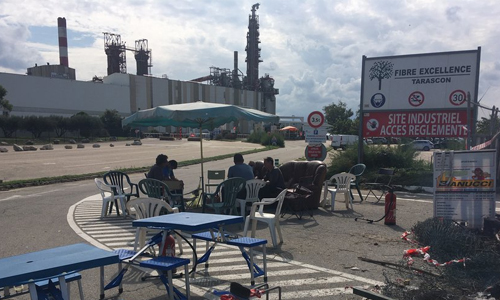 The survival of the Fiber Excellence pulp factory located in Tarascon (Bouches-du-Rhône) is threatened by a strike that began a week ago, its president, Jean-François Guillot, explained, on September 29 to Agence-France Presse (AFP), implicating the strikers, who themselves denounce the "stubbornness" of a management which refuses to negotiate.
The strike movement began on Monday, September 21, with employees opposing the management's "survival plan" which, in order to get the company afloat, includes general wage cuts. "The strike brings us up against the wall and directly threatens the survival of the factory which was already in financial difficulty," the factory manager told AFP. Fiber Excellence must also face a lawsuit for the emission of polluting substances, which was recently postponed until next January 6.
The upstream side of the sector (forest operators) as well as the Bouches-du-Rhône authories (prefecture) have expressed their great concerns.
Fiber Excellence, owned by the Canadian company Paper Excellence, employs nearly 300 people at this site.