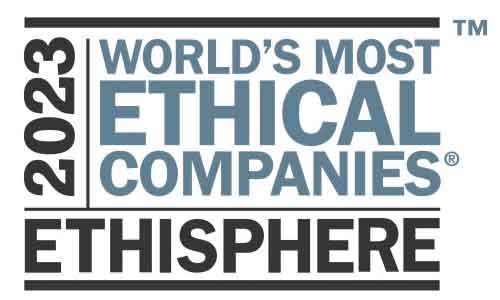 International Paper has been recognized by Ethisphere, a global leader in defining and advancing the standards of ethical business practices, as one of the 2023 World's Most Ethical Companies.
International Paper has been recognized for the seventeenth consecutive year and is one of only two honorees in the Forestry, Paper and Packaging industry. In 2023, 135 honorees were recognized spanning 19 countries and 46 industries.
"Ethics is a core value at International Paper and our team members around the world strive to promote a culture of openness every day," said International Paper Chairman and Chief Executive Officer Mark Sutton. "We believe our reputation and our 125 years of success depend on the daily actions and personal accountability of every team member, and we are honored to once again be named one of the World's Most Ethical Companies."

"This award is a reflection on everyone at International Paper. The commitment of our leaders and co-workers to promote integrity, accountability and respect throughout our business unites us at every level of the company and around the world, and we all share in the benefits of our strong ethical culture," said Joe Saab, Senior Vice President, General Counsel and Corporate Secretary, International Paper. "Achieving this recognition is not an end in itself, but rather another milestone on the course we are forging as ethical leaders in our global community. We can all take pride in being among the World's Most Ethical Companies for 17 straight years."

"Ethics matters. Organizations that commit to business integrity through robust programs and practices not only elevate standards and expectations for all, but also have better long-term performance," said Ethisphere CEO, Erica Salmon Byrne. "We continue to be inspired by the World's Most Ethical Companies honorees and their dedication to making real impact for their stakeholders and displaying exemplary value-based leadership. Congratulations to International Paper for earning a place in the World's Most Ethical Companies community."
Ethics & Performance 
Ethisphere's 2023 Ethics Index, the collection of publicly traded companies recognized as recipients of this year's World's Most Ethical Companies designation, outperformed a comparable index of large-cap companies by 13.6 percentage points over a five-year period.
Methodology & Scoring
Grounded in Ethisphere's proprietary Ethics Quotient®, the World's Most Ethical Companies assessment process includes more than 200 questions on culture, environmental and social practices, ethics and compliance activities, governance, diversity, and initiatives to support a strong value chain. The process serves as an operating framework to capture and codify the leading practices of organizations across industries and around the globe.
Honorees
To view the full list of this year's honorees, please visit the World's Most Ethical Companies website, at https://worldsmostethicalcompanies.com/honorees.