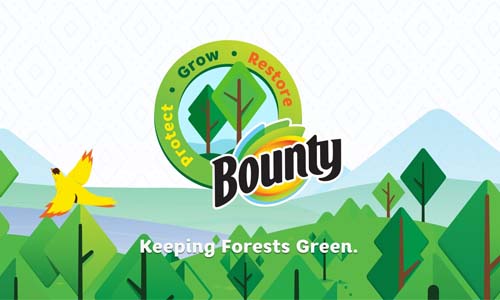 For Bounty Paper Towels, green has always been their color but beyond that, it's also been part of their mission to keep forests green. This World Environment Day, The Quicker Picker Upper is furthering efforts to protect, grow and restore forests.
"No one should have to choose between products we enjoy using and the environment," said Janette Yauch, Bounty Vice President, P&G. "When people reach for a sheet of our paper towels, we want them to know it was responsibly sourced as part of our continued effort to keep forests as forests, now and for generations to come."
Here's how the brand is enabling people, trees and our environment to thrive:
Protect: Bounty protects trees by sourcing pulp from 100% third-party certified lands. This ensures lands are managed in a way that protects forests, biodiversity and the rights of local and indigenous communities.
Grow: Bounty regrows two trees for every one used to make paper towels.
Restore: Bounty partners with conservation organizations to help restore forests and protect wildlife.
"This mission demonstrates our commitment to advance responsible forestry," said Chris Reeves, Senior Scientific Communications leader at P&G and Certified Forester. "We'll continue to create collective solutions within Bounty and with our conservation partners and landowners to ensure we make a greater positive impact on our forests."