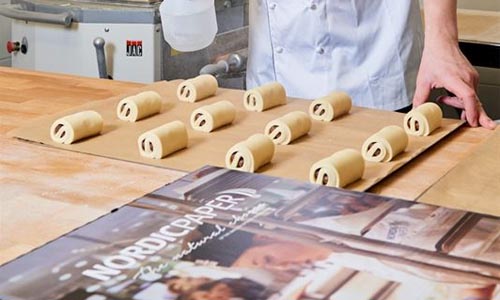 Nordic Paper is world leading within manufacturing of natural greaseproof paper without the addition of fluorocarbons, so called PFAS. The company has obtained yet another confirmation of the environmental performance of its products as Nordic Paper´s baking papers now are compost certified.
Nordic Paper manufactures approximately ten different grades of baking paper for different end use areas within both the food service industry and for home baking. The certification process has taken three years and has been achieved in cooperation with the testing institute TÜV.
The papers have been tested and approved for compostability, both in industrial compost and in home compost. This means that the papers are biodegradable and do not contain any harmful substances.
– The papers degrade in the compost and turns into soil. The whole process takes a couple of weeks, says Henrik Kjellgren, product manager Nordic Paper Natural Greaseproof.
The baking papers from Nordic Paper are produced in Sweden, Norway and Canada. The papers are used globally in the food service industry such as restaurants and bakeries but are also sold in supermarkets for home baking.
– To have this certificate means a lot to us as a company. Our papers are made from renewable raw materials sourced from sustainable forestry, they are recyclable and biodegradable and as such have great sustainability credentials. With the compostability certification and all the tests that have been made we confirm the sustainability performance and the quality of our products, says Henrik Kjellgren.
For many years Nordic Paper has had a collaboration with the National Swedish bakery team and the Association for Swedish bakers and confectioners. Among other things they test the paper products and provide valuable insights. The fact that the papers now are certified for compost is very much appreciated.
– The Swedish bakeries continuously work to operate in an even more eco-friendly and sustainable manner. The fact that Nordic Papers PFAS-free baking papers also are certified for compost use is something that we appreciate a lot. Now our customers can enjoy the cinnamon buns that are baked on the paper even more, says Martin Lundell, CEO of the Association of Swedish bakers and confectioners.