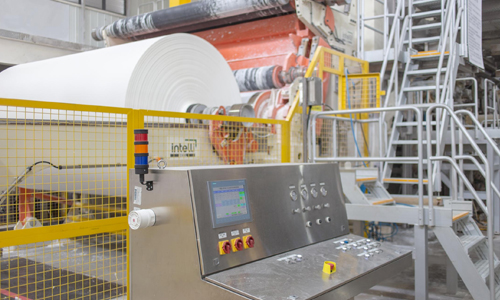 PMP (Paper Machinery Producer) has recently signed another contract for a delivery of  (4) new Intelli-Tissue® 1800 EcoEc Premium machines for APP, this time for Oki mill in Indonesia.
PMP is perceived by APP as a strategic partner in dynamic development and tissue market expansion. A partnership between both companies has become stronger due to a project for (18) Intelli-Tissue® 1600 EcoEc Premium lines for Rudong, China that will bring 620 000 t/a of high-quality tissue.
PMP Intelli-Tissue® EcoEc Premium technology corresponds well with a Sustainable Development Strategy of APP and guarantees achieving ultra-low media consumption (total energy usage: steam & electricity as low as  1,74 MWh/t) while keeping premium quality of final product. PMP machines ensure efficiency higher than 95% which is in line with APP requirements.
PMP scope of supply for OKI mill include (4) new complete PMP Intelli-Tissue® EcoEc Premium machines with core technological components such as PMP Intelli-Jet V® Hydraulic Headbox, Intelli-Former® Crescent Former, Intelli-Press® and Steel Yankee Dryer with Steam heated Hood. Scope of delivery also includes mechanical drives, steam and condensate system, dust removal system, mist removal system, lubrication system, design, erection, start-up & supervision.
This contract is going to be executed by two PMP Group divisions: PMPoland (Poland) and PM IB (China) to provide Optimum Costs Solutions as well as excellent communication platform.