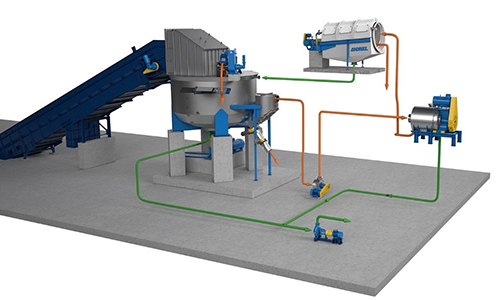 ANDRITZ will install an OCC line with a design capacity of 870 admt/d at United Pulp and Paper Co., Inc. (UPPC), Calumpit mill, Bulacan, Philippines. Start-up is scheduled for the fourth quarter of 2020.
The new line will process OCC (Old Corrugated Cardboard) as raw material to produce corrugated medium. The pulping system comprises an ANDRITZ FibreSolve FSR pulper with FibreGuard detrashing system. The innovative layout of the detrashing system features an elevated FibreGuard detrasher above the drum screen, type ANDRITZ FibreWashDrum, to ensure easy and efficient reject removal. Fractionators and fine screens will be equipped with newly developed PrimeRotors to remove stickies efficiently and at lower energy consumption compared to conventional rotor types.
With this turnkey project, UPPC's parent company, Siam Kraft Industry Co., Ltd., which is part of the well-known SCG Group, once again affirms the long-term cooperation between Siam Kraft Industry and ANDRITZ (China) Ltd., which has already supplied two complete new lines and rebuilt several OCC systems for Siam Kraft Industry. ANDRITZ (China) Ltd. will also supply the complete detailed engineering as well as reject equipment.
ANDRITZ's innovative technologies and the excellent performance of the OCC lines previously supplied were the decisive criteria for the repeat order.
SCG Packaging is a leading manufacturer of high-quality packaging paper in Thailand, the largest manufacturer in Southeast Asia and operates mills in Thailand, Vietnam, Indonesia and the Philippines.