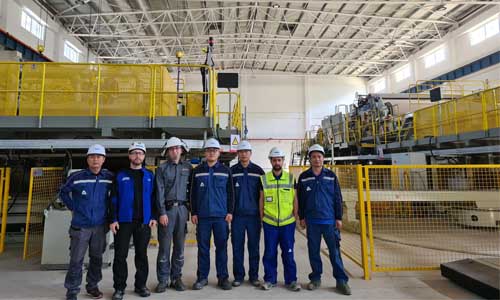 ANDRITZ has successfully started up key pulping process equipment for Sun Paper's new pulp mill (Guangxi Sun Paper) in Beihai, China.
Due to the excellent cooperation between Sun Paper and ANDRITZ, the evaporation plant at the mill started up ahead of schedule, with all other process islands starting up on time. Moreover, the wet lap plant achieved production close to the guaranteed values immediately after start-up.
The ANDRITZ scope of supply included the following:
Wet lap system with two production lines for a capacity of 1,120 admt/d bleached hardwood kraft pulp, each consisting of a Twin Wire and a Heavy-Duty Press for pulp dewatering, a cutter-layboy, and a baling line. The wet lap system has the highest capacity ever installed in China.
White liquor plant with a capacity of 10,500 m3/d, comprising major recausticizing equipment and an ANDRITZ LimeKiln. The recausticizing plant delivery included a LimeSlake slaker-classifier, three causticizing tank agitators, white liquor filtration with a LimeWhite filter to maximize the white liquor quality, and efficient lime mud filtration with a LimeDry filter ensuring high lime mud dryness, which results in low heat consumption in the kiln. The new ANDRITZ LimeKiln, with a capacity of 950 t/d, has a multifuel burner and a high-efficiency LimeCool sector cooler.
Evaporation plant with a high-concentration section for a total evaporation capacity of 1,100 t/h and a final dry solids content of 85%. The evaporation plant delivery included key equipment and technology with ANDRITZ multiple-effect lamella evaporators. The design of the evaporators and process reflects the latest and most modern ANDRITZ evaporator technology with excellent environmental and economic performance.
Ash re-crystallization (ARC) system, with an ash handling capacity of 400 t/d, to treat the ash from the electrostatic precipitator by decreasing the chloride and potassium content while recovering sodium and sulfate. The ARC process from ANDRITZ is based on evaporative crystallization by using economical mechanical vapor recompression (MVR) technology as the heat source. The project was affected by hindrances in logistics, but installation of the equipment delivered by ANDRITZ still ran smoothly.