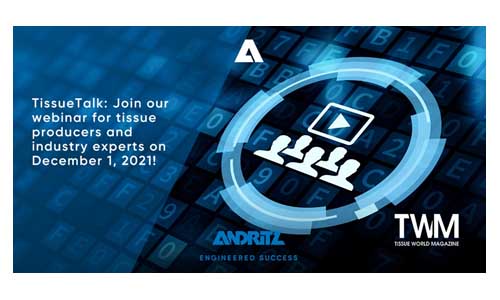 ANDRITZ will be presenting its innovative technologies for tissue production at TissueTalk – the ANDRITZ tissue webinar in cooperation with Tissue World Magazine – on December 1, 2021 at 11:00 AM GMT (Greenwich Mean Time).
ANDRITZ experts will be presenting the latest solutions for safe and sustainable tissue production:
Innovative solutions for tissue machine safety, by Johannes Peterleithner, Project Quality Manager and CE expert at ANDRITZ. This presentation will provide a fundamental understanding of the EMD (European machine directive) and CE (Conformité Européenne – conformity with European health, safety, and environmental protection standards), their procedures, and smart examples of safe operation.
Sustainable technologies for CO2 footprint reduction in tissue production, by Carlos Gallo, Director of Tissue Technology and R&D at ANDRITZ – find out about the latest research results and R&D projects.
ANDRITZ is looking forward to meeting you at TissueTalk! To register free of charge, please visit https://www.tissueworldmagazine.com/webinar/tissuetalk-the-webinar-for-tissue-producers-and-experts/?cid=Andritz-PressRelease or contact us at tissue@andritz.com.