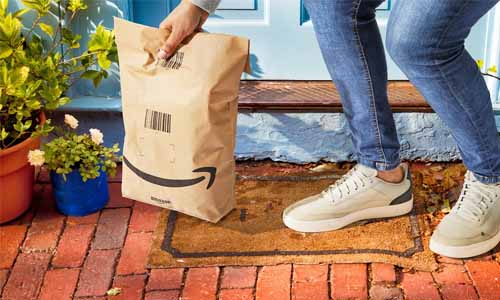 Amazon today announced that all of its shipping packaging for deliveries to customers in Europe, including cardboard boxes, bags, and envelopes, are now recyclable. This initiative applies to items sold by Amazon as well as by partner sellers in the Fulfillment by Amazon program.
Customers now receive their orders in soft paper bags, cardboard envelopes and corrugated parcels, which can be easily recycled as part of selective sorting throughout Europe. Last year, Amazon also increased the number of products shipped in Europe without any Amazon over-packaging by more than 50%. Thanks to all these initiatives, the company estimates that it has avoided the use of more than one billion single-use plastic delivery bags across its European distribution network since 2019.
In addition, Amazon is working with its suppliers to ensure that more products are delivered in their original, easy-to-open cardboard or paper packaging that is recyclable and ready to ship to customers, without any additional Amazon bags or boxes. In this way, products are simply dispatched once the address label has been added. When the item still needs to be packaged, the company strives to use lighter, appropriately sized packaging to limit waste and CO2, while ensuring that products arrive in excellent condition.
"We are delighted that our European distribution network is now using recyclable packaging for customer orders," says Pat Lindner, Vice President of Mechatronics and Sustainable Packaging at Amazon. "This choice is part of our long-term approach to becoming a major player in sustainable development. We will continue to invest in innovative technologies, machine learning techniques and new eco-friendly materials to optimise our packaging processes so that they are efficient for customers and respectful of the planet."

Clare Lane, an Amazon customer living in Bristol (UK), says: "I was delighted to see that parcels were arriving at my house in paper bags instead of plastic packaging. I simply put the paper bags in the recycling bin. I recently ordered a new toaster, which was delivered in the manufacturer's original packaging, with just a shipping label affixed by Amazon. That's a lot less packaging to throw away."
Amazon's teams around the world are constantly striving to improve the company's packaging, using a scientific approach to make it more eco-friendly, in particular by investing in new materials, processes and technologies. Amazon is currently testing some innovative packaging in Europe, including 100% paper padded envelopes and reusable delivery bags, and is also encouraging its vendor partners to reduce their own packaging.
For each shipment requiring packaging, Amazon uses a scientific solution to determine the optimum type and size of packaging. Using machine learning, it is possible to identify small products that are suitable for flexible packaging, such as paper bags, which are up to 90% lighter than a similar-sized cardboard box. Over the past five years, these algorithms have reduced the use of cardboard boxes by more than 35%. Amazon also relies on algorithms to ensure that distribution centres always have the right mix of carton sizes and to reduce packaging for shipments with multiple items.
Packaging is just one of the areas in which the company is innovating and investing as part of its drive to become a major player in sustainable development. Amazon is also co-founder and first signatory of The Climate Pledge, a commitment to achieve carbon neutrality by 2040. As part of this goal, Amazon is on track to achieve 100% renewable energy across all its operations by 2025, and its global fleet includes more than 9,000 electric delivery vehicles.