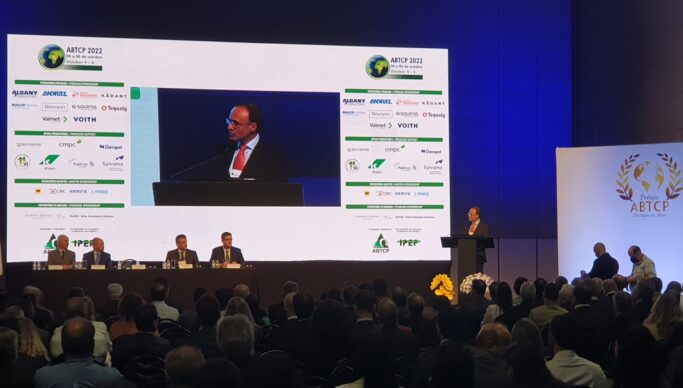 Today is the opening of the 55th congress and exhibition of the Brasilian technical association ABTCP. This International event is back live at the renovated Transamerica Exo Center in Sao Paulo. This major gathering in the Latin American region had to be held online during the Covid-19 pandemics.
The opening session showed a strong attendance to applaud the recipients of the traditional awards, and to hear the keynote address by Gonzalo Muñoz, former UN Climate Action Champion and expert on environmental economic issues.
During the 3 days of the event, a series of technical sessions presented by experts and researchers will focus on sustainable solutions for pulp, paper and tissue making.
The exhibition hall, although smaller than it used to be, welcomes about 150 local and international companies. Among them are some of the global suppliers like Runtech, Voith, Valmet, Andritz, Kadant, Nalco, Solenis, and some smaller players such as the Dutch  water jet solutions provider ProJet B.V., or the French AI specialist Braincube. Pulp and paper producers are also present to show their commitment to a more sustainable production process, like Klabin, Suzano or Sylvamo.
The general atmosphere refers back to the pre-Covid era, and it feels good.