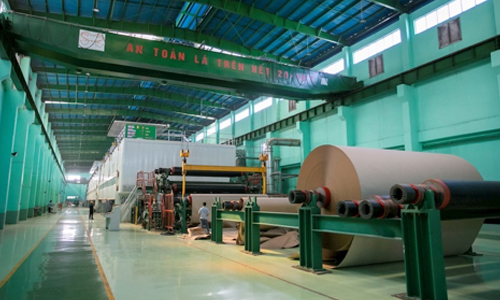 Leading packaging producer looks to create Vietnam's most advanced board paper production facility, with newly integrated DCS, QCS and sectional drives
Dohaco—one of Vietnam's leading producers of Kraft paper, carton boxes, cardboard paper and paper pulp—has selected technology leader ABB to supply a complete electrification and automation solution to expand its operations at its newest mill in Ben Tre province, Vietnam.
 ABB's solution incorporates medium voltage (MV) and low voltage (LV) motor control centers (MCCs), MV and LV motors, power transformers, sectional and single drives, Distributed Control System (DCS), Quality Control System (QCS) and a Dilution Profiler. This helps Dohaco to benefit from a complete solution centered around a collaborative platform that enables the optimization of electrification and automation of large board machines.
ABB is involved in the entire project, including project management, installation supervision and commissioning, ensuring increased efficiency and accuracy for the project duration.
 "The flexibility of ABB solutions and our understanding of the intricate process of expanding an existing mill placed us in an excellent position to handle this complex project," said Wei Ming Liew, Pulp and Paper Industry Lead in South Asia, ABB. "We greatly look forward to helping Dohaco achieve its efficiency and productivity goals."
 "We selected ABB as our automation and electrification supplier due to their excellent track record and expertise in automation and for the paper industry," said Mr. Luong Van Thanh, Vice General Director of Dohaco. "This is a crucial project to Dohaco, and we appreciate ABB's project execution and excellent service support."
In order to handle future upgrades and migration smoothly, the system integrates the latest virtualization technology, along with a seamless integration into ABB Ability™ System 800xA for DCS, QCS and sectional drives together with ABB's Pulp and Paper Library for board machine applications.
 "We are proud of this project because it underscores to everyone in Vietnam and the surrounding region that ABB has the right expertise to optimize and support local pulp and paper operations, helping to keep mills up and running at all times," said Nguyen Hoang Giang, Business Line Manager for Process Industries in Vietnam, ABB.