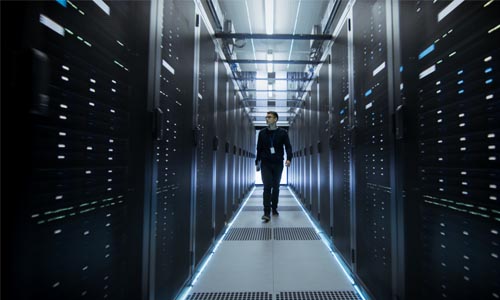 ABB has completed the integration of a stable, secure and scalable control system for one of the Middle East's largest data centers at a time of increased demand, ensuring reliability, cyber security and energy efficiency.
 Sources including the
Organisation for Economic Co-operation and Deployment (OECD)
report that telecommunications providers have seen internet usage surge by as much as 60 percent during the course of the COVID-19 pandemic, while video streaming services and internet of things (IoT) have placed additional demands on data centers.
ABB's scope of supply for a significant customer in Israel relies on ABB Ability™ Data Center Automation (DCA), which is now controlling, monitoring and optimizing the mission-critical infrastructure with mechanical building management systems (BMS), electrical power management systems (EPMS), data center infrastructure management (DCIM) and heating, ventilation, and air conditioning (HVAC) capabilities in a single, industrial solution. It has the potential to save hundreds of thousands of kilowatt hours per year and shrink the site's CO₂ footprint through better control of energy usage.
 The data center, rated as Tier IV – with high redundancy, security and reliability – is one of hundreds being built globally as the demand for data and connectivity grows. A so-called 'defense-in-depth' security philosophy from ABB helps to identify, mitigate and manage cyber risks that could otherwise impact the customer's systems. DCA will therefore enable the management of all energy use efficiently, while ensuring the expected levels of reliability and security. At a base level, it is an integration and automation platform to enable transparency and interoperability for continuous optimization and high availability.
It is an open platform, and its controls allow data exchange and automation among systems, equipment, components and applications to integrate data center tool sets faster, including uploading assets into tracking tools. ABB Ability™ Data Center Automation makes any requirement to manually enter data to calculate utilization metrics and other key performance indicators obsolete.
The user-friendly system means that operators are prepared for almost every eventuality, due to a range of features and a high level of accessibility to extract the data needed.
 "ABB Ability™ Data Center Automation's operator interfacing allows real time visualization and management of everything through a single pane of glass," said Madhav Kalia, Global Head of Data Center Automation at ABB. "The predictive maintenance features will allow the customer to identify issues early on, before they turn into a more serious problem.

"Operators are facing some critical challenges in balancing data center demand and functionality while taking responsibility for the energy they consume. ABB is providing smart, safe and energy efficient data center solutions to help customers save energy and reach their customers' expectations."