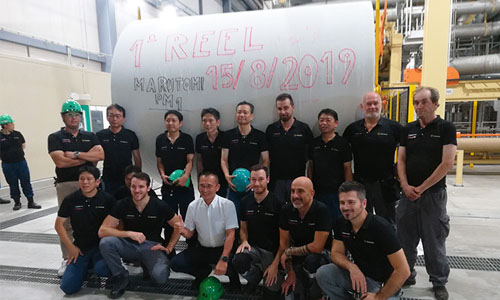 The Marutomi Group started up a MODULO-PLUS ES tissue machine supplied by Toscotec at its Marutomi Paper's mill in Fuji city, Shizuoka, Japan. This is the first of two tissue lines ordered by the Japanese producer. The second line is scheduled for start-up in 2020 at Ono Paper's mill.
The MODULO-PLUS ES machine features a sheet width of 2,850 mm, an operating speed of 1,500 m/min and produces over 22,000 tpy of high quality tissue. It is equipped with TT NextPress, a second generation TT SYD, TT Hood-Duo steam-heated hoods and Toscotec's proprietary Distributed Control System TT DCS, which was developed especially for this project on a Mitsubishi platform, in cooperation with the Japanese Corporation.
The scope also includes Toscotec's patented TT SAF (Short Approach Flow) system, dust and mist removal systems, an automatic shaft return system on the pope reel and an in-line shaft puller. The service package consists of the plant's detailed engineering, erection supervision, commissioning and start-up assistance.
With this new line, Toscotec's shoe press technology TT NextPress counts another reference in Asia, following various successful installations in Portugal, Italy, South Africa and China. Thanks to the flexible regulation of its load and tilt, TT NextPress delivers highly consistent moisture across the sheet and a softer and bulkier tissue, while ensuring maximum energy efficiency in the drying process.
Mr. Shinichi Kato, Vice President of Marutomi Engineering Co., Ltd., says, "Toscotec met our targets in terms of project management, delivery and execution. Toscotec, with the collaboration of Kobayashi Engineering Works, supported us 100%, making adjustments and proactively helping the progress of the project. Both commissioning and start-up went very well. We are happy with the paper quality we are getting right after start-up and our team is already working with Toscotec to fine-tune all the key parameters. We expect great results on the energy efficiency of this production line".
Andrea Paganucci, Toscotec Project Manager, says, "The effective cooperation both with Marutomi team and Kobayashi Engineering Works, who supported the entire project, led to this successful outcome. Since the beginning of the installation, we proceeded according to schedule, like clockwork, towards our common objective".