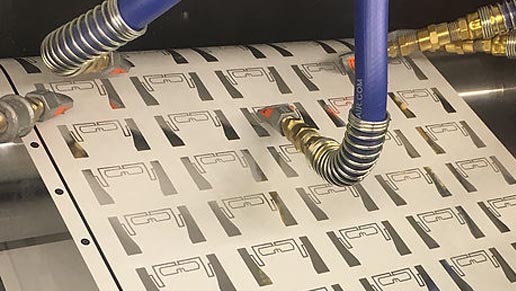 Walki has established a new company, 4E Antenna AB with the aim of commencing large-scale production of its 4E antennas used in RFID tags.  
Walki has been working for some years on a process for making flexible electronics. The technique is instrumental in Walki's 4E antennas, an important component in RFID tags that help retailers follow their inventories in real time. The name 4E is derived from the words ecology, efficiency, exactness and economy.
The process for making these 4E antennas is substantially more environmentally friendly than other methods. It's the first totally plastic-free antenna that is fully recyclable.
The Swedish entrepreneurs Lars Granbom and Jonas Johansson, both experts in antenna technology and the electronics industry, are new shareholders in the company. They will also take an active role in the management of the company with Lars as CEO and Jonas as COO. 4E Antenna AB has also joined forces with Smartrac Technology Group, a global market leader in RFID products and IoT solutions, in order to answer to the growing demand.
"Amidst the ongoing discussion on replacing plastics, the time is right for the 4E technology and environmentally-friendly RFID antennas", says Walki's CEO Leif Frilund.
 "The growth potential for these antennas is huge as studies have shown that the use of RFID tags may increase sales by up to 5 %, according to professor Adrian Beck from University of Leicester. The market for RFID tags shows growth figures touching 30% annually", says Mats Holti, EVP Technology & Innovations at Walki.
The head office of 4E Antenna AB will located in Gothenburg, Sweden, whilst the antenna production continues in Walki's Pietarsaari plant.