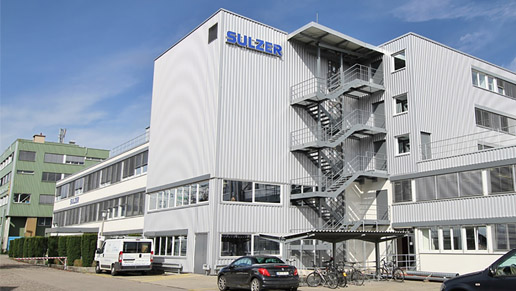 Sulzer Chemtech's center of excellence in Allschwil, Basel-Landschaft, Switzerland, was established in 2009 following the acquisition and integration of Kühni. Since then, the facility has grown into an expert hub for the delivery of state-of-the-art process plants. Sulzer, the leader in separation and mixing technology, celebrated this success by holding a 10th anniversary event this May.
During the celebrations, Philipp Süess, Senior Vice President of Separation Technology, Region Europe, Russia, Africa at Sulzer Chemtech and Miguel Peña, Head of Process Plants and Site Manager at the Allschwil site for Sulzer, explored the past, present and future of Sulzer's center of excellence in Allschwil and the company's capabilities in process plant creation.
Both speakers emphasized how, over the last ten years, Sulzer's process technology center in Allschwil has grown to support and strengthen the company's leading role in separation and mixing technology. The facility is now a provider of complete turnkey plants, offering valuable support to a broad range of process industries worldwide. In addition, Sulzer is now able to support process plant development projects with local points of contact in the U.S.A., India, China and South East Asia.
"It has been ten very fruitful years since Sulzer's acquisition of Kühni, during which we have been continuously improving the excellence of our products and services, encouraging partnerships between Sulzer centers worldwide, rewarding innovation and maintaining a leadership role in the processing technology sector." Highlighted Philipp Süess.
"In this time, the facility has continued to grow and expand, creating new jobs," explained Miguel Peña. The center currently employs nearly 80 permanent workers whilst hosting Sulzer's employees from other locations and centers worldwide. With the introduction of an employee exchange program, Sulzer has been supporting the development of its staff, which can share and learn new skills and competencies. Philip Süess added: "This program has been particularly successful and is proven by the positive feedback we are receiving.
"This project is one of the reasons why the staff at Allschwil are extremely delighted to celebrate the center turning ten. Sulzer values its team and recognizes their importance as a key asset. The drive, ambition, knowledge and expertise of Sulzer's employees truly helped to make Allschwil a center of excellence."
Miguel Peña concluded: "I immediately recognized the huge potential of the Process Plant unit when I joined Sulzer and I believe the entire staff is moving in the right direction to fully unleash their capabilities. The future is certainly bright for our center of excellence in Allschwil."