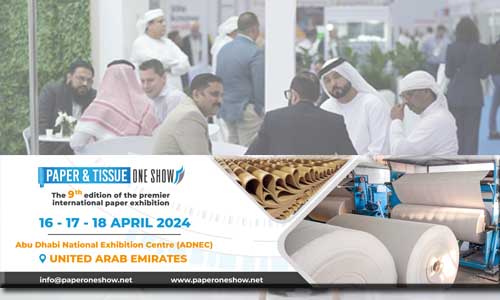 Since 2007, Al Furat Group's international exhibition, Paper One Show, has enjoyed uninterrupted success, attracting more and more exhibitors and professional visitors. It has become the largest and most prestigious event for the global paper industry.
Now it's time for a glorious transformation as it is announced that our exhibition is upgraded to Paper & Tissue One Show and relocated to the capital of the United Arab Emirates – Abu Dhabi.
Paper & Tissue One Show will be held annually at the most prestigious complex in the country – Abu Dhabi International Exhibition Centre (ADNEC).
WHY ADNEC, ABU DHABI?
• We have concluded a cooperation agreement with the Abu Dhabi Convention & Exhibition Bureau, which will provide full marketing support for our international paper exhibition.
•Abu Dhabi  is one of the most economically powerful, prosperous, secure and stable regions in the world.
• It is one of the most important venues for exhibitions and congresses in the Middle East region and worldwide.
• It is located 25 minutes from the city center and 15 min from the Abu Dhabi International Airport.
• Abu Dhabi is a hub for tens of pulp, paper, tissue, board and packaging companies, making it the largest center for the paper industry in the MENA region.