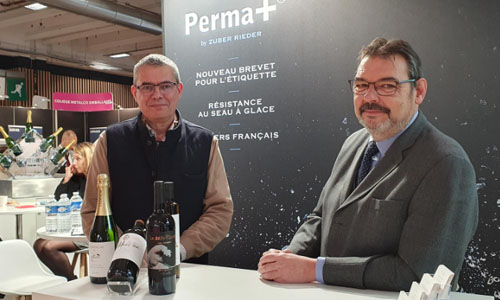 The French paper mill, a world leader in the design and manufacture of uncoated label papers acquired by the italian Group Fedrigoni last December, has strengthened its position by obtaining a third patent dedicated to the label resistance in the ice bucket. The ice bucket test remains the ultimate test for a label: it must emerge intact, its whiteness almost unaltered and its opacity retained. This is THE test of the label market.
This innovation was shown during Paris Packaging Week, an exhibition organized last 25-26 January in Paris (picture of the booth with Alain Martz, Zuber Rieder's President and Pierre Vincent, Senior Marketing Advisor).
The R&D and Production teams, in close collaboration with the Laboratoire de Chimie des Polymères Organiques-LCPO-Bordeaux (CNRS, Institut Polytechnique de Bordeaux and University of Bordeaux), have succeeded in developing a treatment in mass that offers a 48-hours ice bucket resistance that only Master Process®, marketed by Papeterie Zuber Rieder since 2007, has been able to guarantee until then.
WS (wet strength) and anti-cryptogamic treated, this new paper (95 gsm) has the benefit of being available in reels for the adhesive market as well as in sheets for the traditional label market (wet-glue). This particular know-how can fit with all the label paper references manufactured by Papeterie Zuber Rieder. Perma+® offers the most demanding users a new and particularly attractive solution for maintaining the label's durability: wet opacity and whiteness (without the "greying" effect) in particular.
The ice bucket-proof label, a French know-how
Many customers are already using Papeterie Zuber Rieder's previous patent-protected solutions, Master Process® and Permafrost®. Master Process® is a well-established collection, and until now was the only range of paper that can guarantee 48 hours of resistance for a label immersed in an ice bucket. This 110 g/m² paper, with an outstanding printability, is available in reels only. Released in 2017, Permafrost® offers a solution for more common projects with 24-hours resistance and standard printability. At the time of its launch, its strength lies in its availability in both reel and sheet.
Over the past fifteen years, Papeterie Zuber Rieder has become the world's leader in uncoated label papers. This almost exclusive commitment to this specialised sector has enabled the company to acquire unparalleled technical expertise and a unique understanding of the expectations and problems of their customers and end-users.
Mainly intended for the wine, champagne and spirits market, the range consists in nearly 165 references held in stock in sheet size (for traditional labels) and/or in reels (for self-adhesives). Partnering with all the adhesive manufacturers who have developed a specific "Wine- Champagne-Spirits" offer, Papeterie Zuber Rieder offers them the "One-Roll-Concept" service, i.e. keeping a number of items on a one roll-basis stock to facilitate and speed-up testing.